WEALDEN IRON is a Bulletin of research published annually by WIRG. Many of these volumes are now out of print and difficult to obtain; the contents of each volume are listed below.
The Contents of Series 1 (1969 to 1980) are available here
Clicking on the titles of articles on each contents page will link directly to that article.
---
Series 2 (1981 to date)
Wealden Iron, 2nd series, 1 (1981) pdf download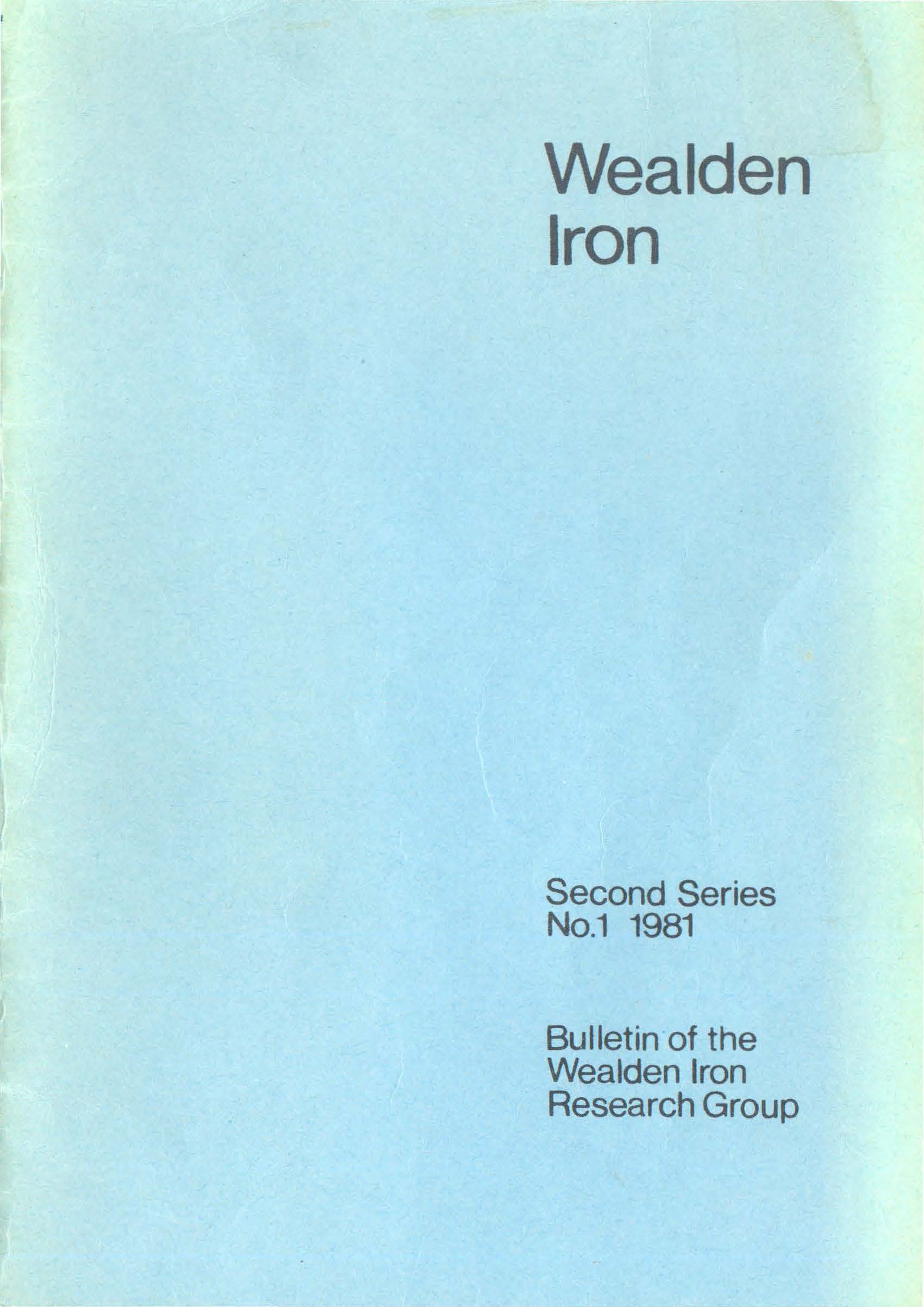 Scheduled Ancient Monuments
The Vachery Ironworks
The Penhurst-Ashburnham leat
Sources in the Public Record Office for the history of the Wealden iron industry: Part 2
A metallurgical site near King's Standing Farm, Ashdown Forest
Some extracts from the Sussex Weekly Advertiser, 1772-5
Catsfield Furnace – a new discovery
Ashdown Forest (Millbrook) Saxon bloomery
Field Group Reports:
– Water Powered Sites
– Knole Park
– Ardingly Furnace
– Pashley Furnace, Ticehurst
-Maynards Gate Forge, Rotherfield
– Newly-discovered Bloomery Sites
– Ashdown Forest
– Chiddingly
– Heathfield
– Wilderness Wood, Hadlow Down
– Explorations and brief notes:
– Chiddingly
– Heathfield
– Runham Farm, Lenham, Kent
– Iron Graveslabs with Incised Lettering
The Fullers and Carron
Wealden Iron, 2nd series, 2 (1982) pdf download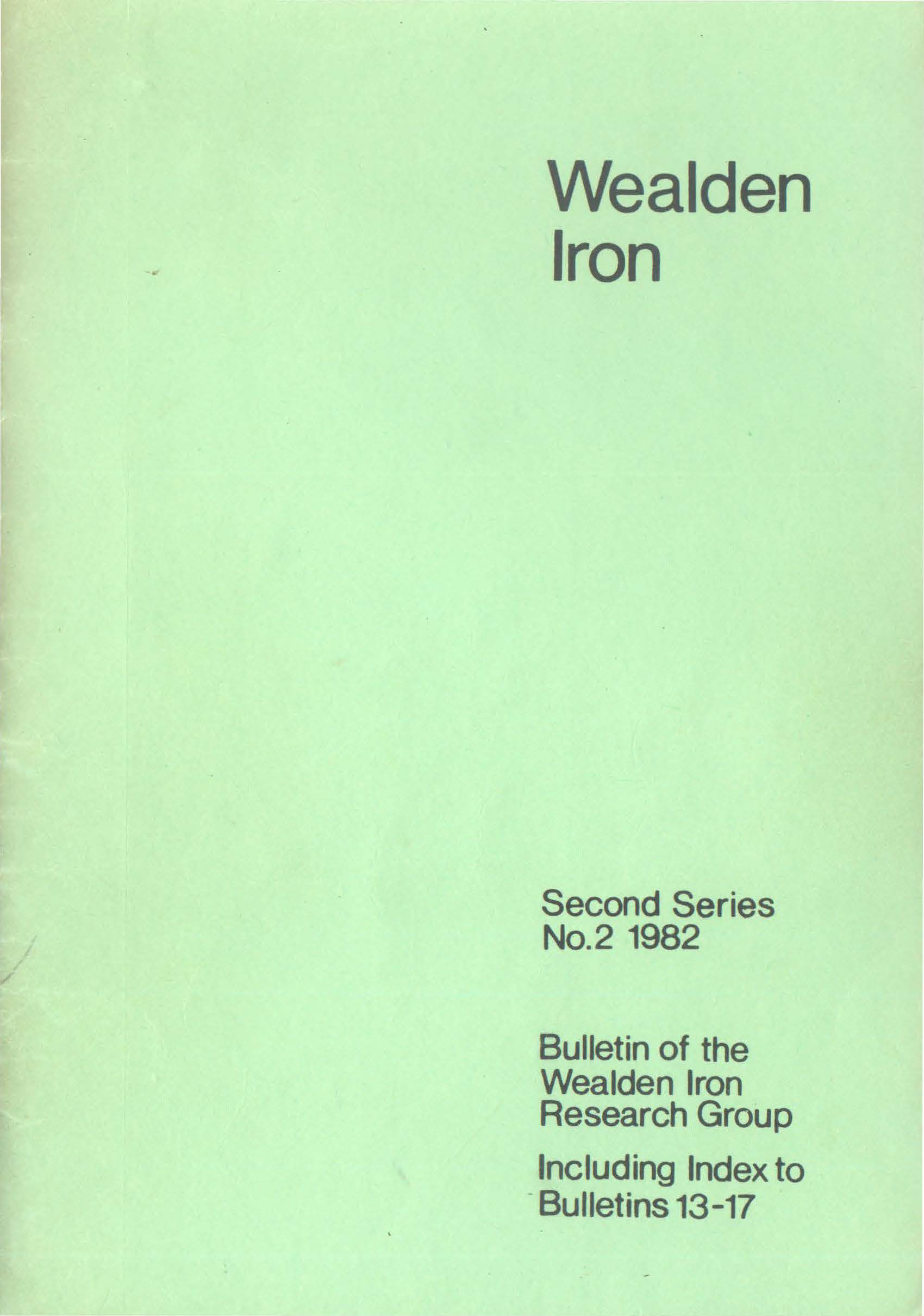 The Chronicle Award
Field Notes:
– Furnace Wood, Buxted
– Sharpsbridge, Fletching
– Wilderness Wood, Hadlow Down
– Crump Corner, Little Horsted
– Wadhurst
– Brambletye Forge
– Darwell Revisited
– New Light on Pippingford Steel Forge
– Mayfield Forge
– Mayfield Boring Mill
– Mayfield Furnace revisited
– Field Group Notes:
– Maresfield and Uckfield Bypass Forays
– Tugmore Shaw, Hartfield
– Thundersbarrow Hill
– WIRG Slag Collection
References in recent publications
Oldlands Roman Bloomery
Minepit Surveys
Sources in the Public Record Office for the history of the Wealden iron industry: Part 3
The Sussex Weekly Advertiser – Some Extracts
Income and Production at Heathfield Ironworks 1693-1788
Index to Bulletin XIII to XVII (First Series
Wealden Iron, 2nd series, 3 (1983) pdf download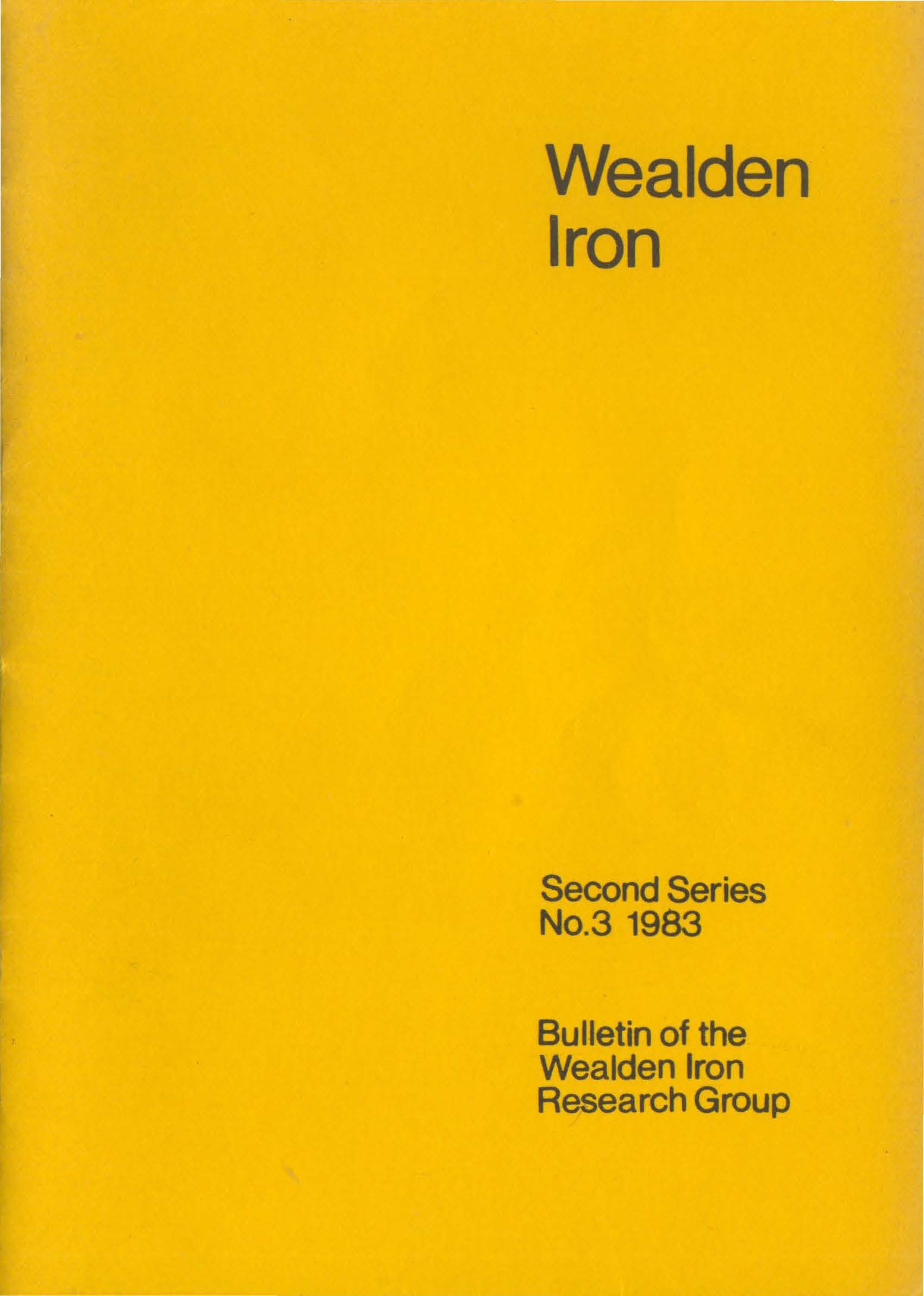 Field Notes:
– Roffey Medieval Bloomery
– Park Farm, Mayfield
– Warbleton
– Two forays in the West Hoathly/Ardingly area
– A Bloomery in the Charlwood area
Sheffield Forge – new developments
Inventory of the ironworks at Hamsell in 1708
The recovered Courthope Manuscripts: Transcriptions
Richard Maynard – yeoman and ironmaster
Sources in the Public Record Office for the history of the Wealden iron industry: Part 4
Iron Pans used in the making of salt in the sixteenth century
How Oldlands Roman bloomery was really discovered
Bassetts blast furnace
Excavations at Great Cansiron Farm, Hartfield
Incised lettering on graveslabs
Pippingford Blast Furnace Trust
Notes on publications
Wealden Iron, 2nd series, 4 (1984) pdf download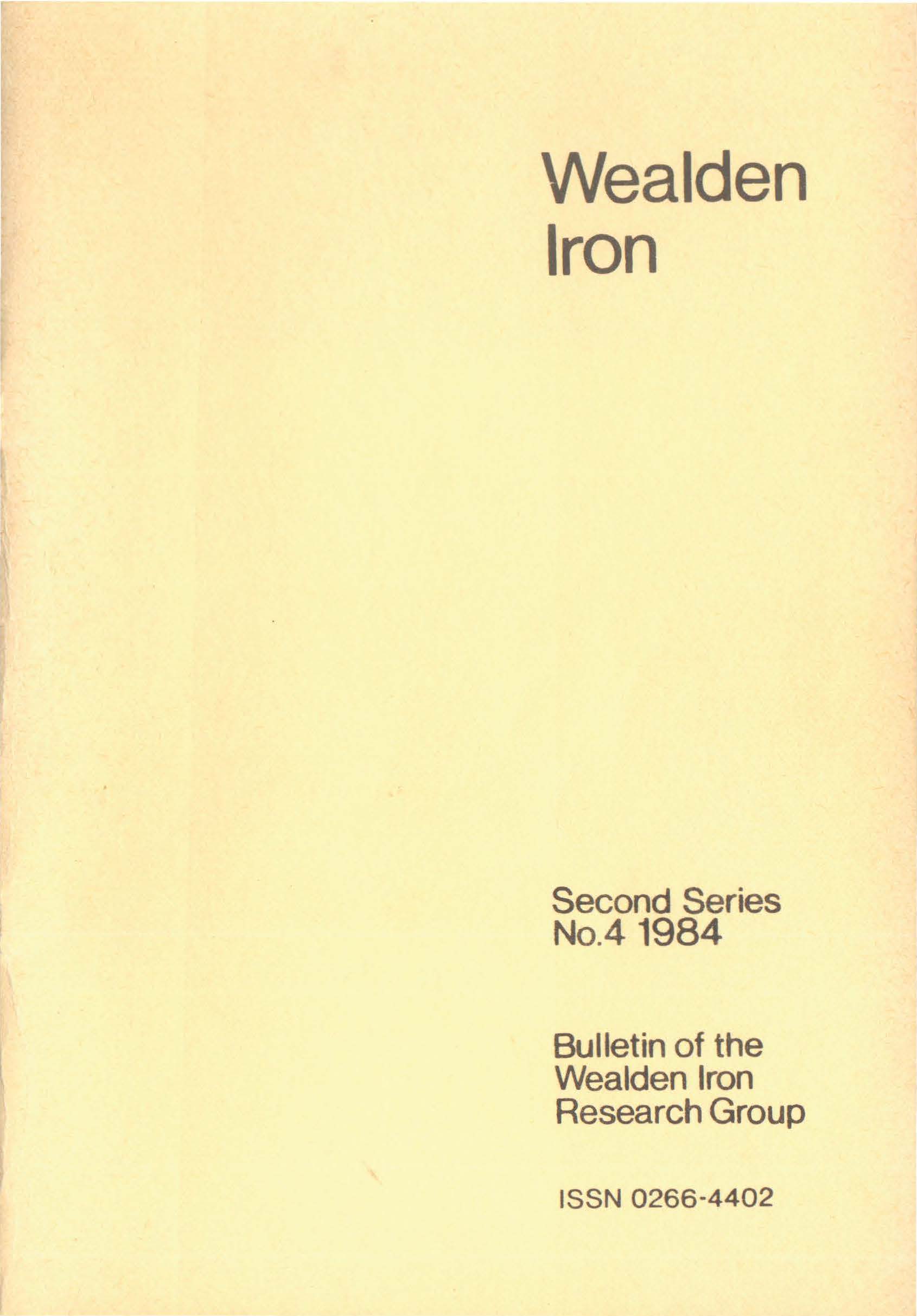 Field Notes:
– Charcoal burner's hut (?)
– Bloomery site near Garden Hill, Hartfield
– Roman ironworking at Runham Farm. Lenham, Kent
Cast iron plates from Burwash
A late Roman gold coin from High Hurstwood, East Sussex
West End furnace, Chiddingfold, Surrey
Birchenbridge Forge – a new site identified
Hawksden Forge ironmaster's house
Aliens in the ironworking areas of the Weald: The Subsidy Rolls 1524-1603
Wealden Iron, 2nd series, 5 (1985) pdf download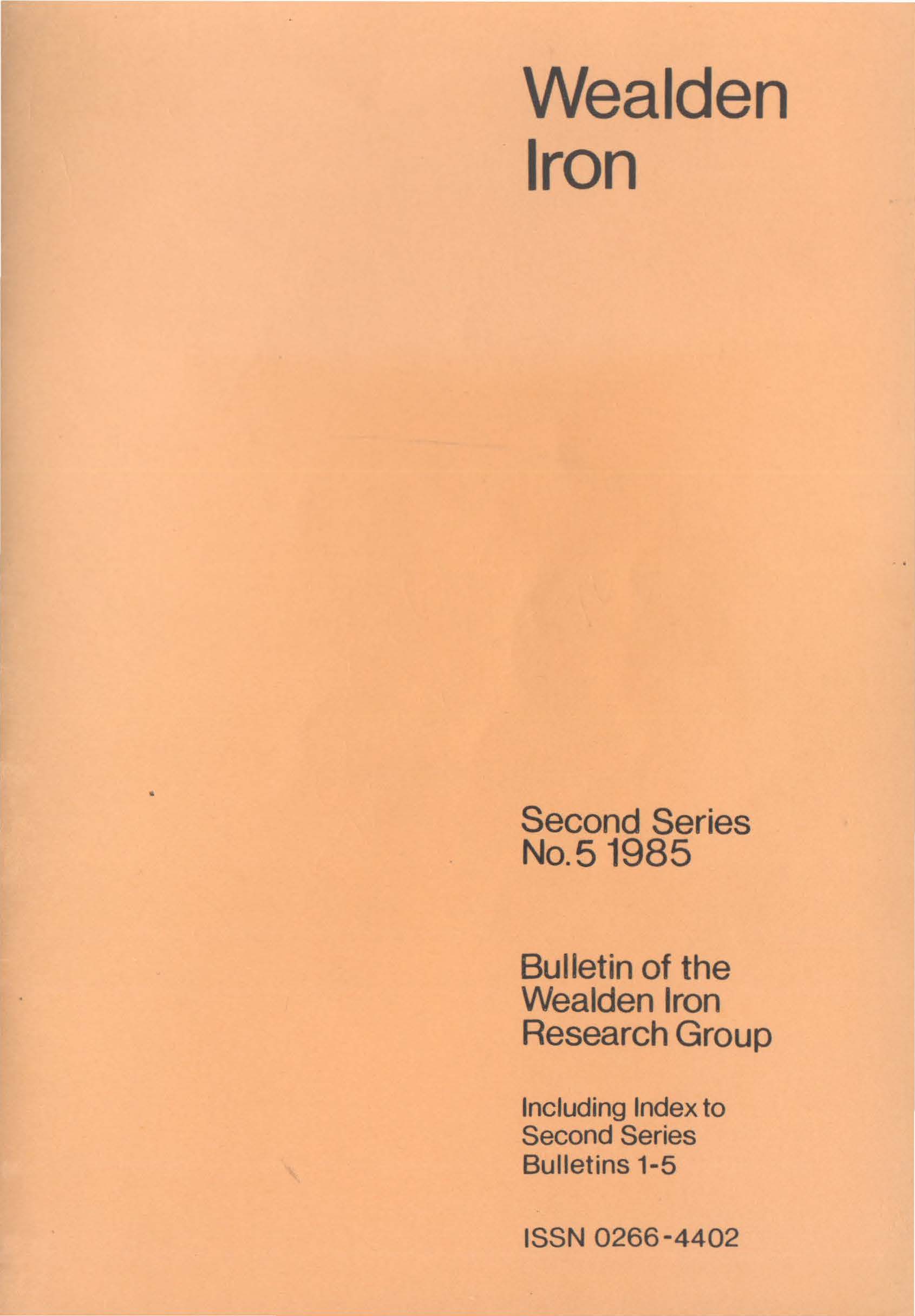 Field Notes:
– Brickhurst Stream, Old Place Farm, Mayfield
– Blackfold Furnace, Handcross
– Coushopley Furnace
– Old Manor, Horam
– Lurgashall, Sussex
– Pophole,Surrey/Hampshire
– Rackwell Gill, Crowhurst, Sussex
A Romano-British ironworking site at Crawley Down, Worth, Sussex
The introduction and early spread of the blast furnace in Europe
Further excavations at Great Cansiron Farm, Hartfield, East Sussex
References to ironworks in records at the Sussex Record Offices
Review: H. Cleere, 'The Organisation of the Iron Industry in the Western Roman Provinces in the Early Empire, with Special Reference to Britain', Offa, 40 (1983)
Index to Wealden Iron, Second Series Nos. 1–5 (1981-5)
Wealden Iron, 2nd series, 6 (1986) pdf download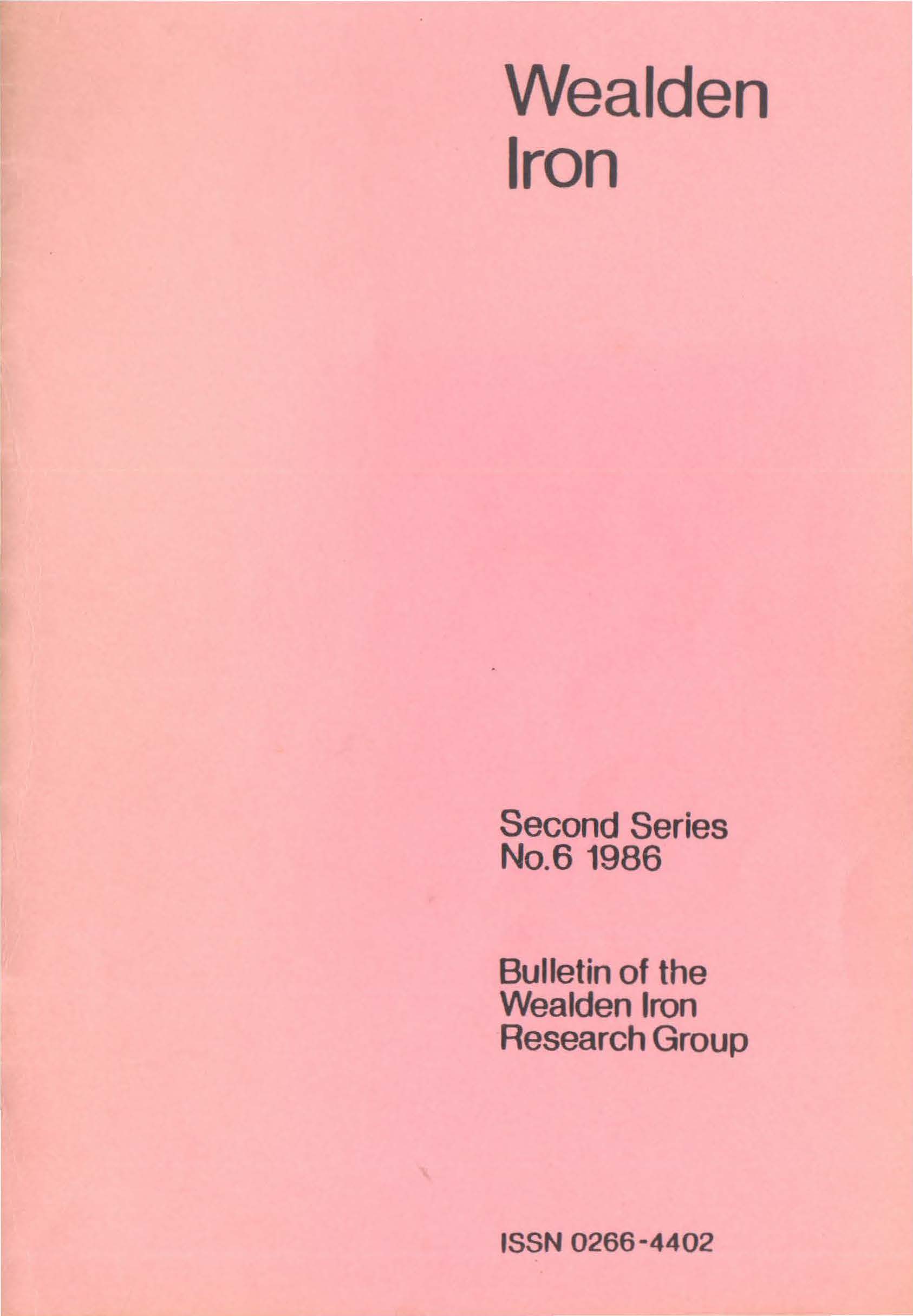 Obituary – Charles Frederick Tebbutt (1900-1985)
Field Notes:
– A Bloomery at Horsted Keynes
– Roffey Medieval Bloomery
– Fernhurst Furnace
– A Proof Bank at Beech Mill Furnace, Battle
– A Bloomery at Bramshott, Hampshire
The 1574 lists of ironworks in the Weald. A re-examination
Standford Furnace, Bramshott, Hampshire. A case of mistaken identity
Richard and Joan Isted, Ironmasters
Rowfant Supra Forge
Three Sites in the Tudeley area, near Tonbridge, Kent
Two Radio-Carbon Dates for Minepits at Sharpthorne Brickworks
Roman Minepits
Wealden Iron, 2nd series, 7 (1987) pdf download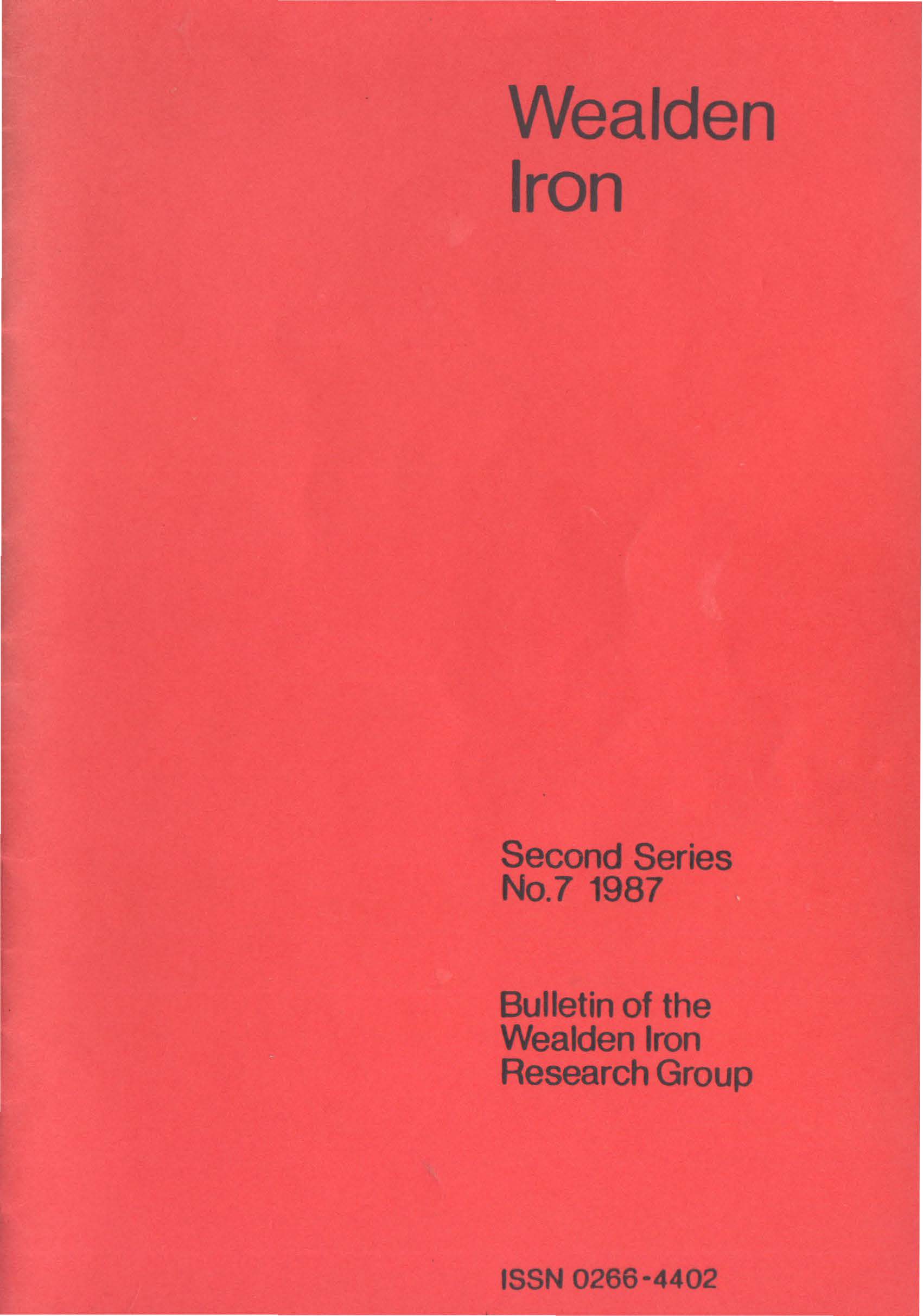 Field Notes:
– Owlsbury Farm, Rotherfield, Sussex
– A bloomery at Broomfield, Kent
Minepits at West Hoathly Brickworks, Sharpthorne, Sussex
The eighteenth-century revival of Howbourne Forge, Buxted
Drew Barantyn
Tugmore Shaw
Footlands ironworking site, Sedlescombe
The impact on the Weald of boring cannon from the solid
Iron ore extraction – an eighteenth century example
Index to the gazetteer of water-powered sites in The Iron Industry of the Weald
Wealden Iron, 2nd series, 8 (1988) pdf download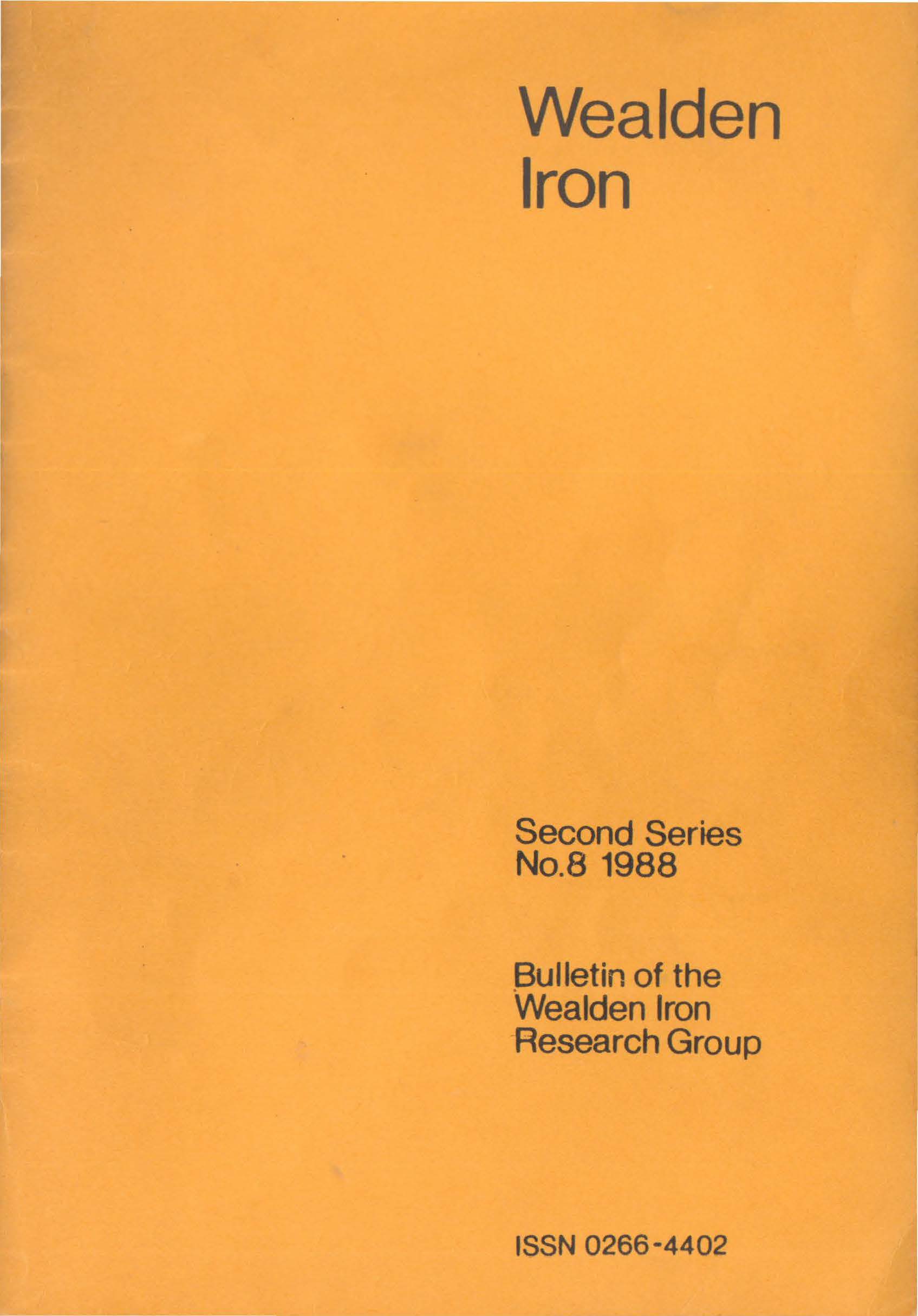 Field Notes:
– Chitcombe Romano-British Ironworks, Brede, Sussex
– Owlsbury Farm, Rotherfield
– Ridge Hill Romano-British Bloomery, East Grinstead
– A Bloomery at Danehill, Sussex
– Leather Shoes from Footland Farm
– Further Notes on Footlands
– A Bloomery at Crawley, Sussex
– Pen Ponds at Cuckfield
– A Bloomery Furnace at Fairlight, Sussex
Pre-Industrial Revolution Cast Iron Graveslabs
Langles Furnace and Forge – Site Survey 1986/7
Wealden Iron, 2nd series, 9 (1989) pdf download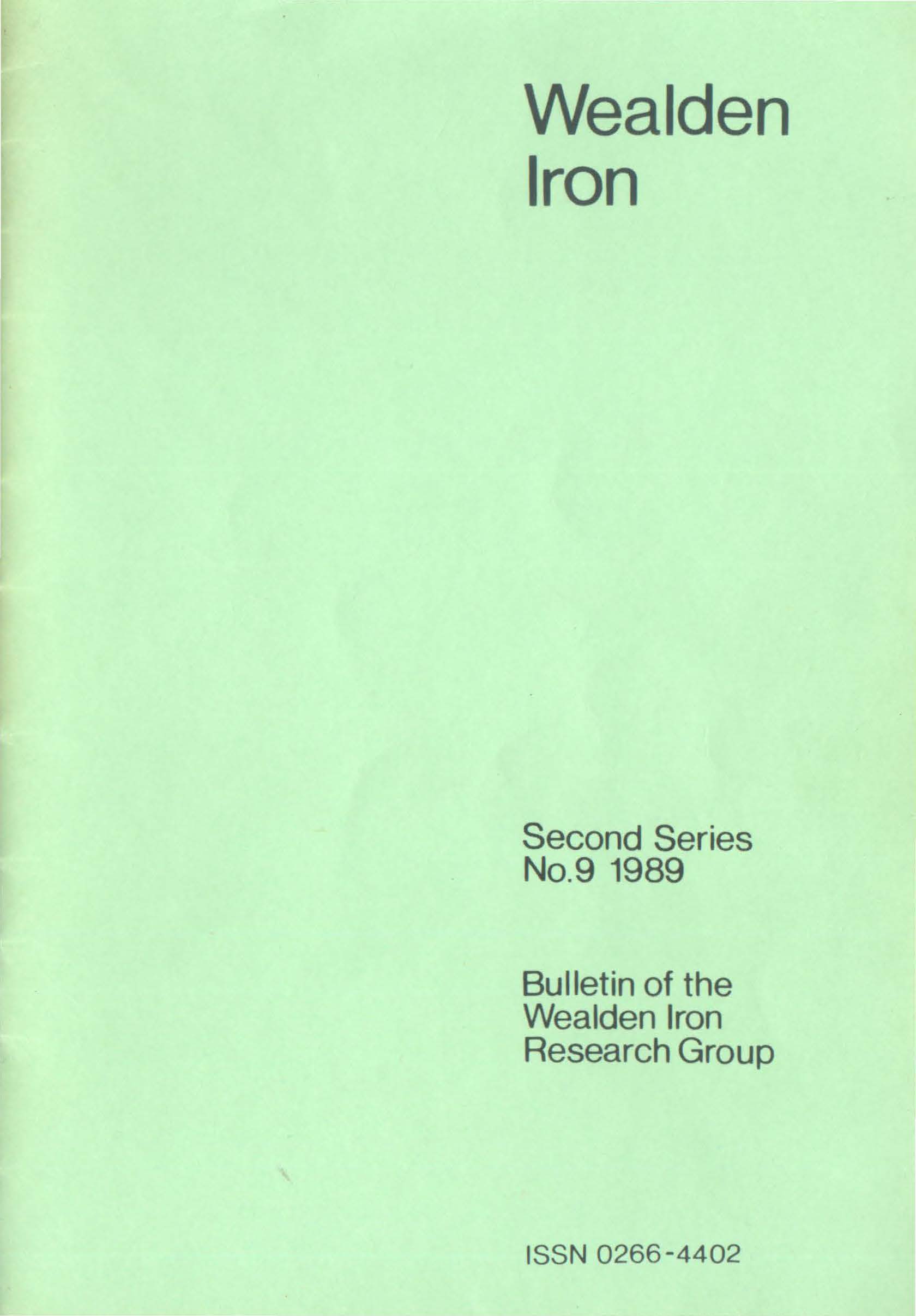 Field Notes:
– A Probable Medieval Ironworking Site in Crawley, Sussex
– Cocking Foundry
– Bardown Romano-British ironworking site
– An Area Devoid of Bloomery Furnace Sites
– A Bloomery at Smarden, Kent
Addition to Catalogue of Iron Graveslabs
Blackwater Green, Crawley
St Leonards Lower Forge and Furnace Site Survey
A Furnace at Ewhurst
A Method of De-rusting of Archaeological Iron Artefacts
William Clutton – Ironmaster
A New Forgemaster, William Bassett
Wealden Iron, 2nd series, 10 (1990) pdf download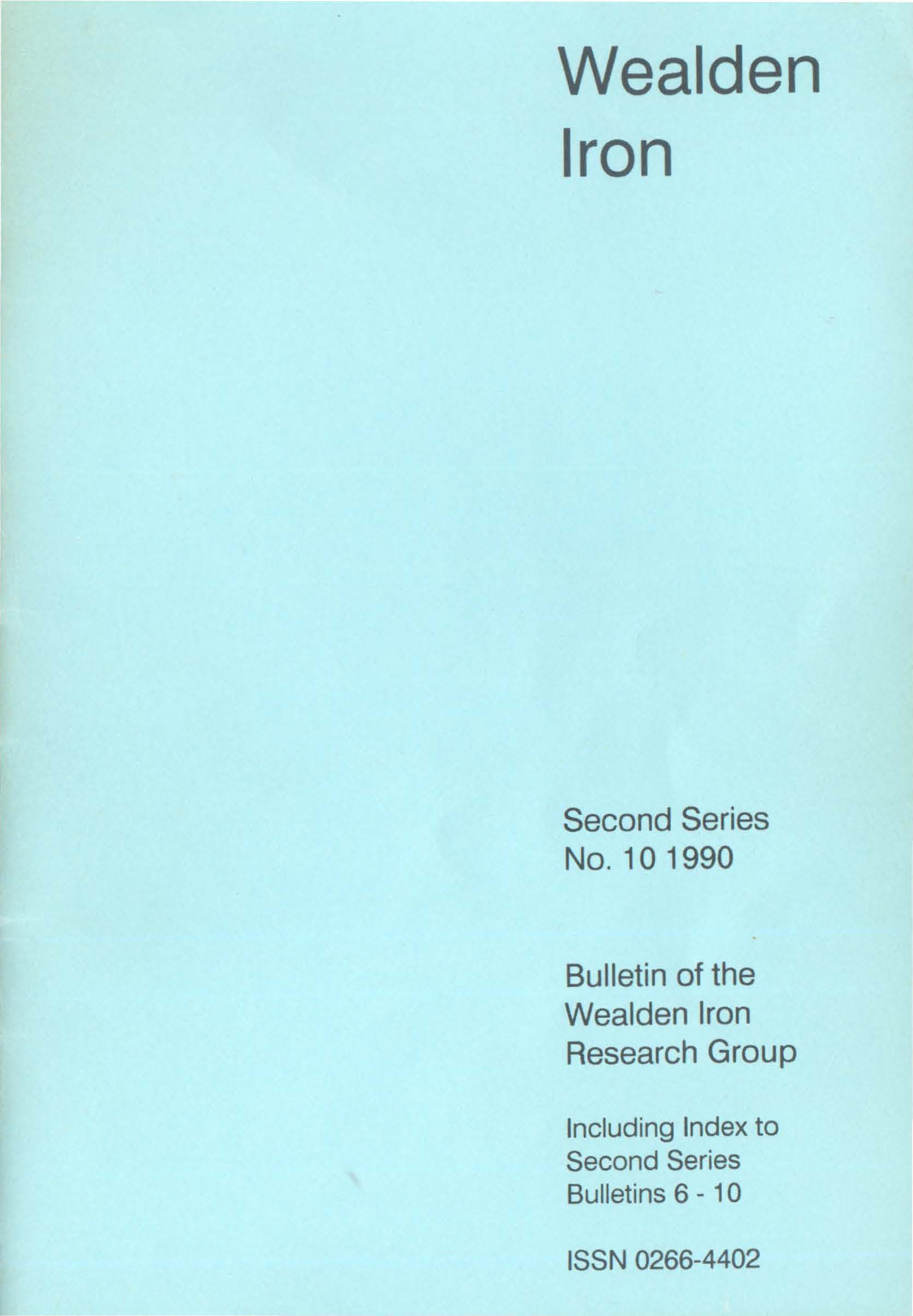 Field Notes:
– Courtlands Farm Bloomary, West Hoathly, Sussex
– A Bloomery at Upper Parrock
– A Bloomery in Crawley
– A Bloomery at Newick, Sussex
– A Medieval Bloomery at Tidebrook, Mayfield, Sussex
Heathfield Furnace Site Survey
The Indirect Process in the Pays de Bray
Geology and Iron Ore in the Pays de Bray
Gazetteer of Furnaces and Forges in the Pays de Bray, France
Index to Wealden Iron, Second Series Nos. 6–10 (1986-1990)
Wealden Iron, 2nd series, 11 (1991) pdf download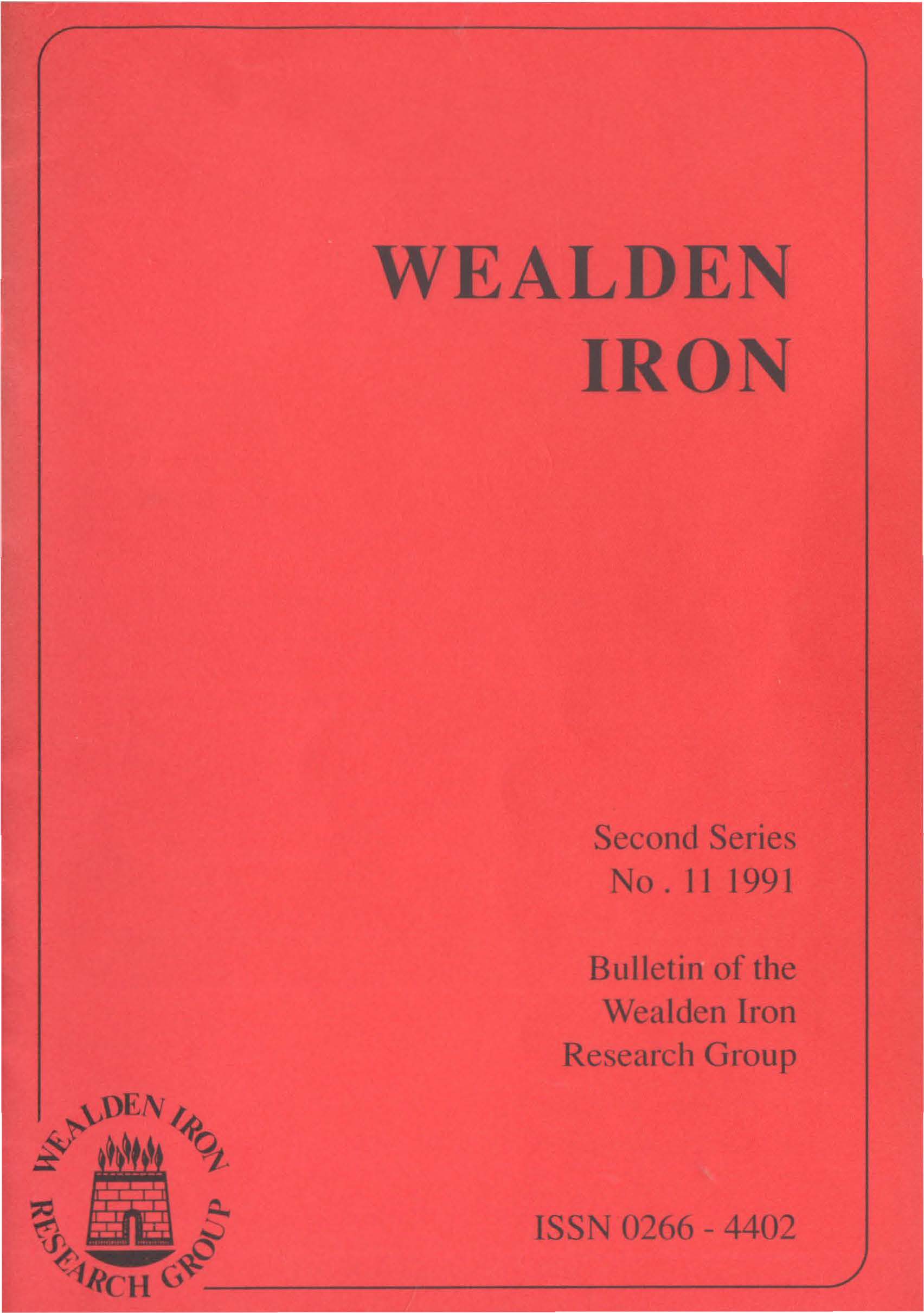 Field Notes:
– Beauport Park Romano-British Ironworks, Battle, Sussex
– A bloomery at Speldhurst, Kent
– Three bloomeries at Parrock, Hartfield, Sussex
– A Romano-British bloomery at Horam, Sussex
– Medieval ironworking at Reigate, Surrey
– Slag used as hard-core
– Medieval ironworking at Alfold, Surrey
Cuckfield furnace site survey
Two Wealden wrought iron hammers
Henry VII's first attempt to exploit iron in Ashdown Forest
English cast-iron ordnance of 1564
Reconstruction of a Wealden gun-casting furnace
Ironworking sites in the Haslemere area
Review: The Fuller Letters
Wealden Iron, 2nd series, 12 (1992) pdf download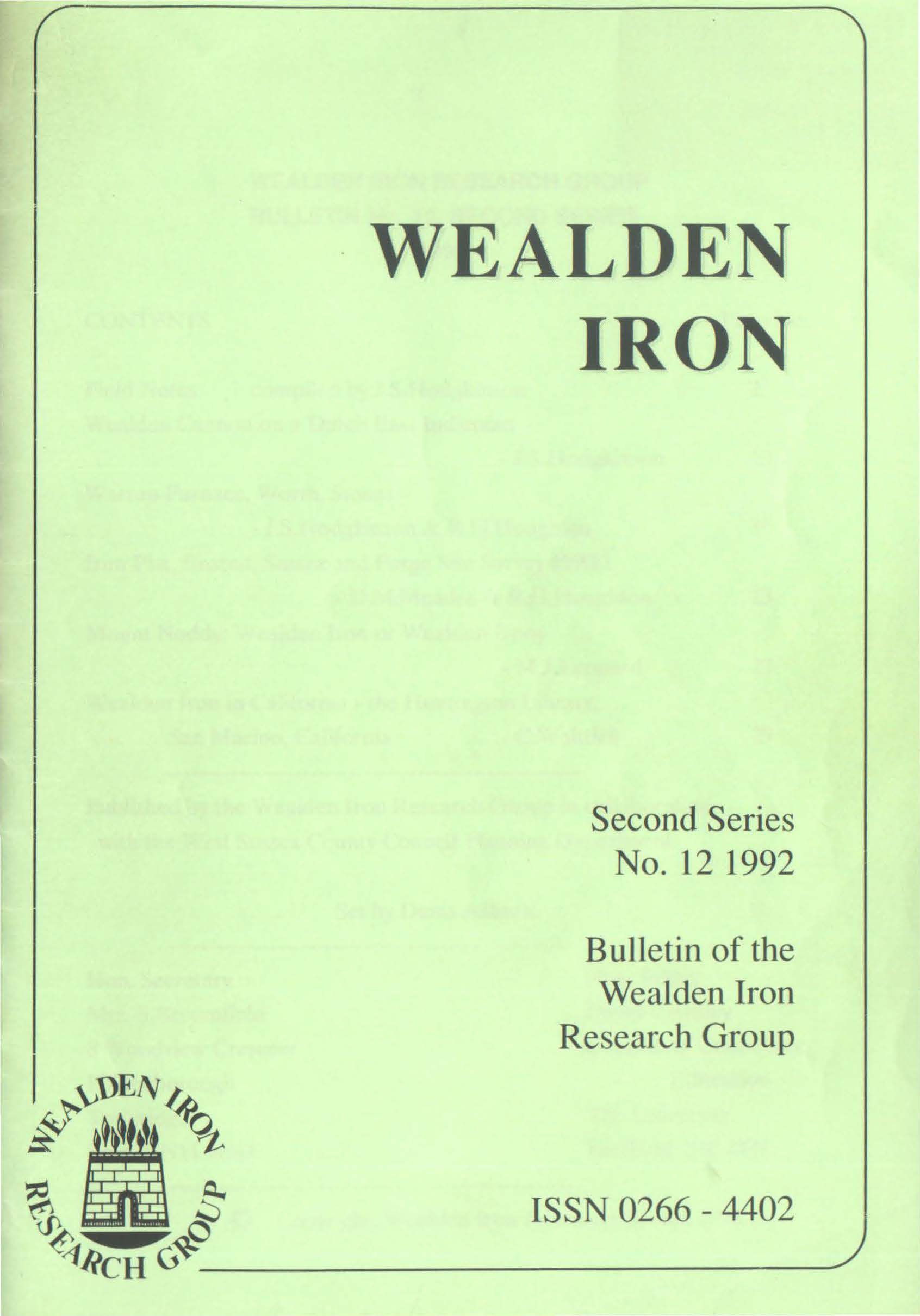 Field Notes:
– Cowden Lower furnace
– London-Lewes Roman road
– Fore Wood bloomery, Battle, East Sussex
– A Romano-British bloomery at Danehill, East Sussex
– A bloomery near Battle, East Sussex
– Sturt Hammer, Haslemere, Surrey
– Milland furnace, Milland, West Sussex
– A bloomery in Fletching, East Sussex
Wealden cannon on a Dutch East Indiaman
Warren furnace, Worth, Sussex
Iron Plat, Buxted, Sussex – furnace and forge site survey
Mount Noddy: Wealden iron or Wealden irony
Wealden iron in California – the Huntington Library, San Marino, California
Wealden Iron, 2nd series, 13 (1993) pdf download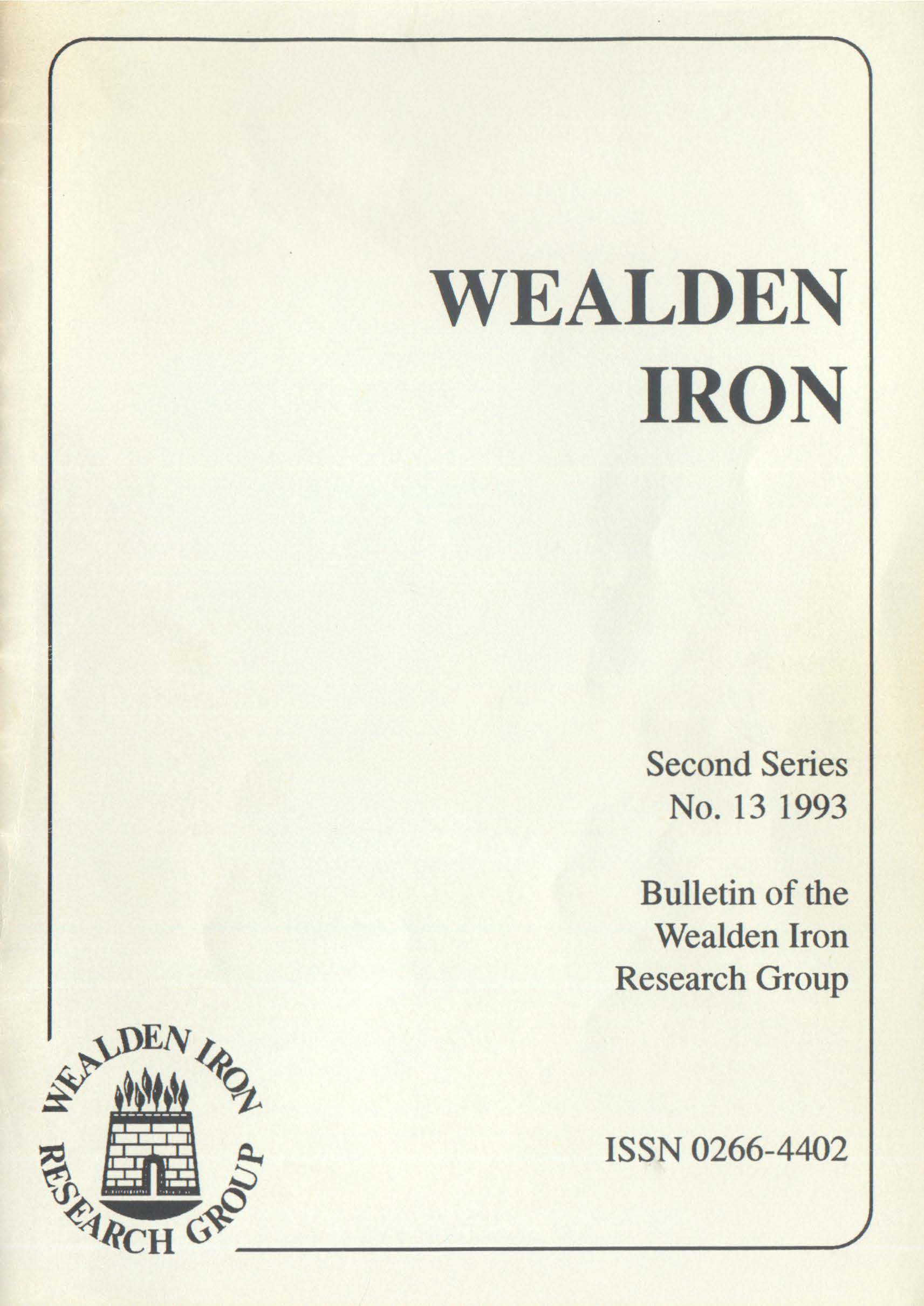 Field Notes:
– A bloomery at Greyshott, Surrey
– A bloomery at Beckley, East Sussex
– Two bloomeries in Lingfield, Surrey
– Cinderhill bloomery, Leigh, Kent
– Fore Wood bloomery, Crowhurst, East Sussex
Henly (Lower) furnace, Wadhurst
Henly Upper furnace
Notes on Kent furnaces
Foray to Matfield, Kent
London-Lewes Roman road
Notes on Wealden Furnaces – Board of Ordnance records 1660-1700
Three forays – Upper Stonehurst Farm bloomery site, Surrey
Two ironworking sites, Hoathly, near Lamberhurst
Wealden Iron, 2nd series, 14 (1994) pdf download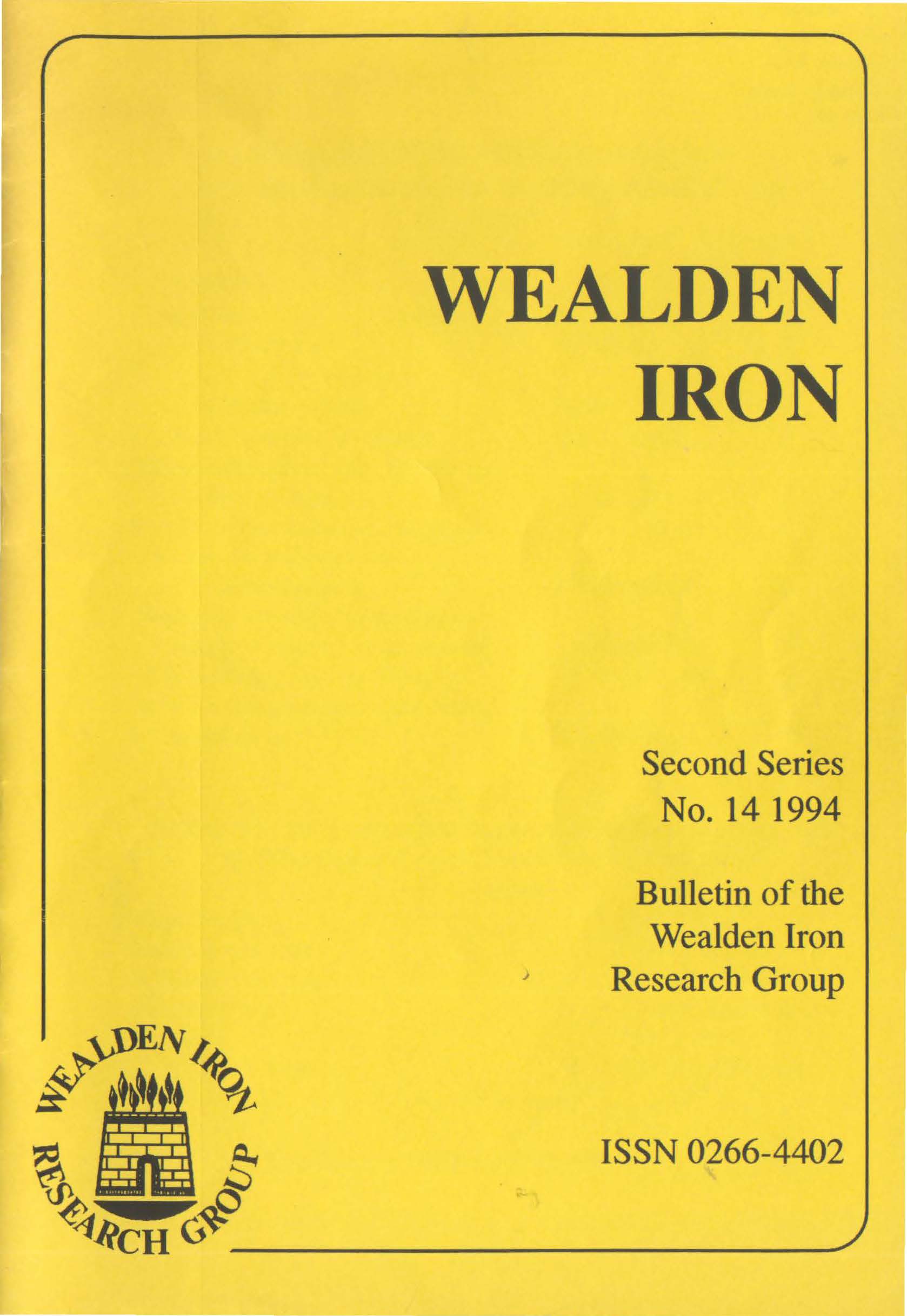 Field Notes:
– Badsell Park Farm, Brenchley, Kent
– Bloomery slag in Wivelsfield, East Sussex
– Buttons, Wadhurst, East Sussex
– Possible bloomery site in the upper Rother valley
London-Lewes Roman road – part 3
The possible use of coke for smelting iron in the Weald
The Mayfield cannon – a reappraisal
Contemporary illustrations of Wealden furnaces
Further additions to the catalogue of early Wealden iron graveslabs
Millplace and Gravetye furnaces
Wealden ironmasters and the Board of Ordnance after 1770
Wealden Iron, 2nd series, 15 (1995) pdf download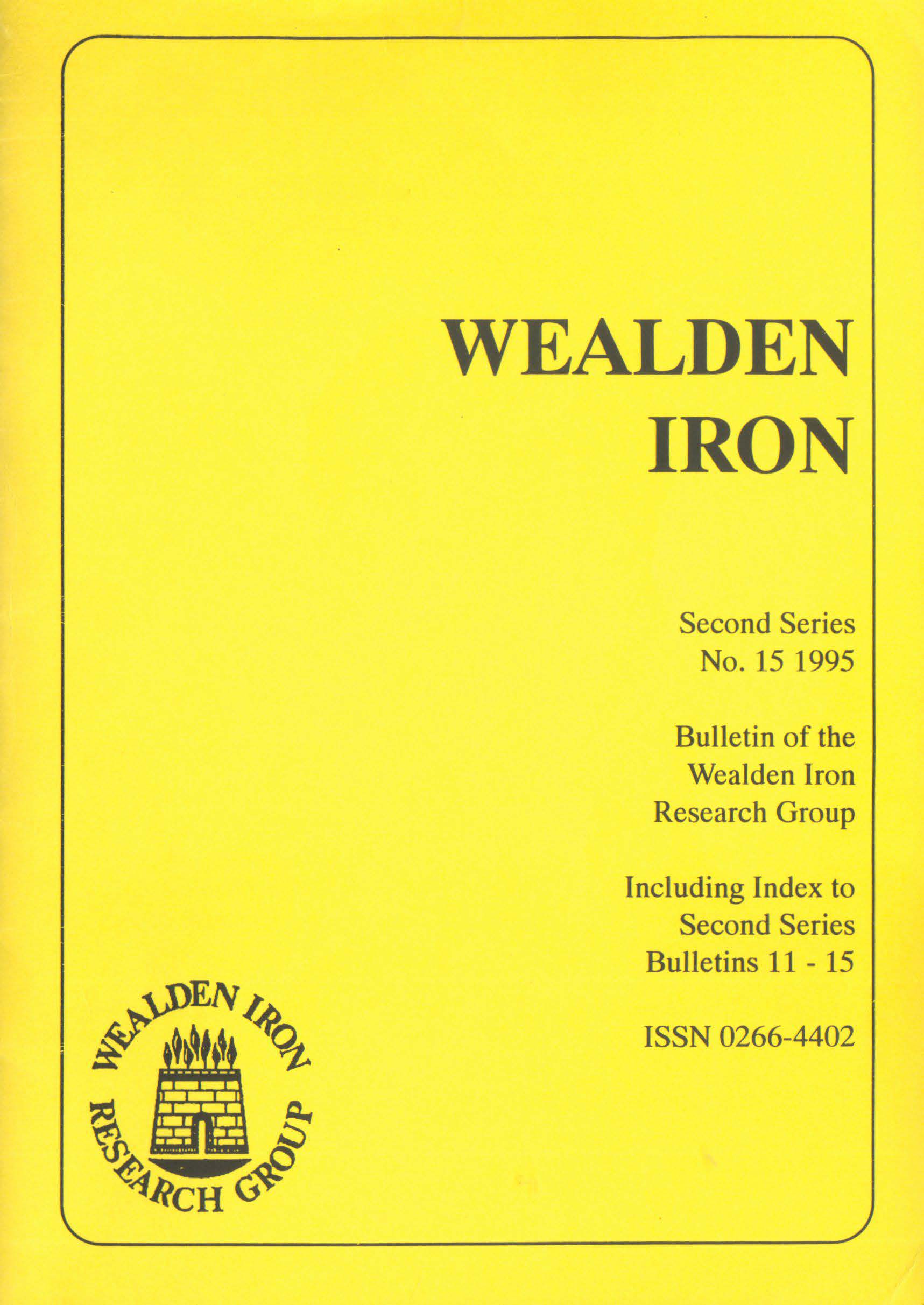 Field Notes:
– Medieval bloomery slag at Crawley, Sussex
– A possible medieval bloomery at Southwater, Sussex
– A bloomery at Lyminge, Kent
– Great Cansiron Romano-British ironworks, Forest Row, Sussex
– A bloomery in Hartfield, Sussex
Ordnance recommended to arm defensive earthworks proposed for the Sussex coast in 1587
Cinderhill, Leigh, Kent
Notes on early 18th-century Memoranda on the making of iron
Fourth foray on the London-Lewes Roman road
Final foray on the London-Lewes Roman road
Index to Wealden Iron, 2nd series Nos. 11–15
Wealden Iron, 2nd series, 16 (1996) pdf download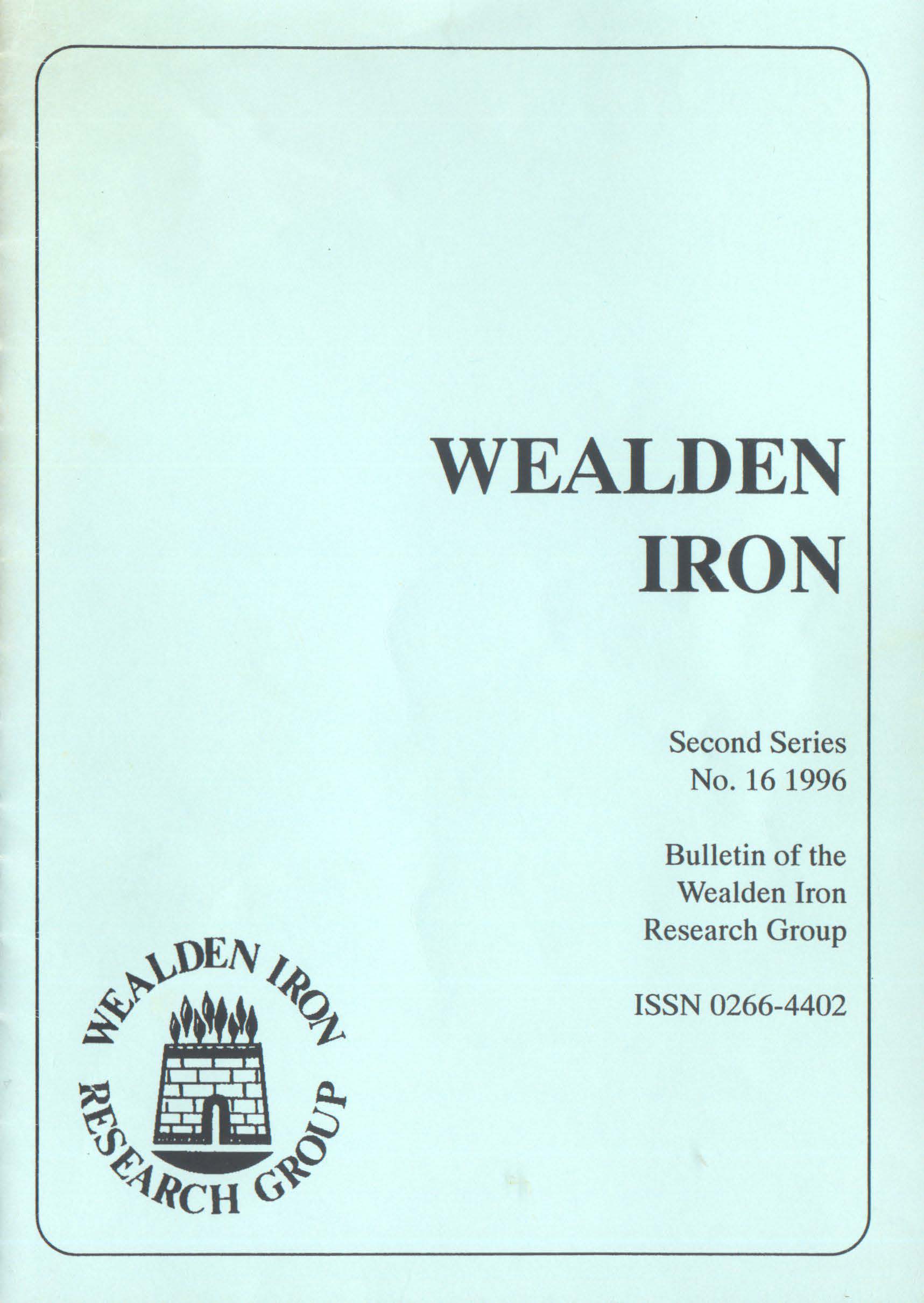 Field Notes:
– A bloomery at Outwood, Horne, Surrey
– Further evidence of medieval iron working in Crawley, Sussex
– A bloomery in Dallington, Sussex
– A bloomery in Mayfield, Sussex
– Rowfant Supra forge, Worth, Sussex
– Crown Hill, Wye, Kent
– Wassell forge, Kirdford, Sussex
Fourteenth century ironworks in Wartling Manor
A Wealden steel-making patent
Oldlands furnace, Marshalls and the Nutt family
Three notes on ironworking sites in Kent
'Dutch' labourers at Salehurst in 1566-1568
Wealden Iron, 2nd series, 17 (1997) pdf download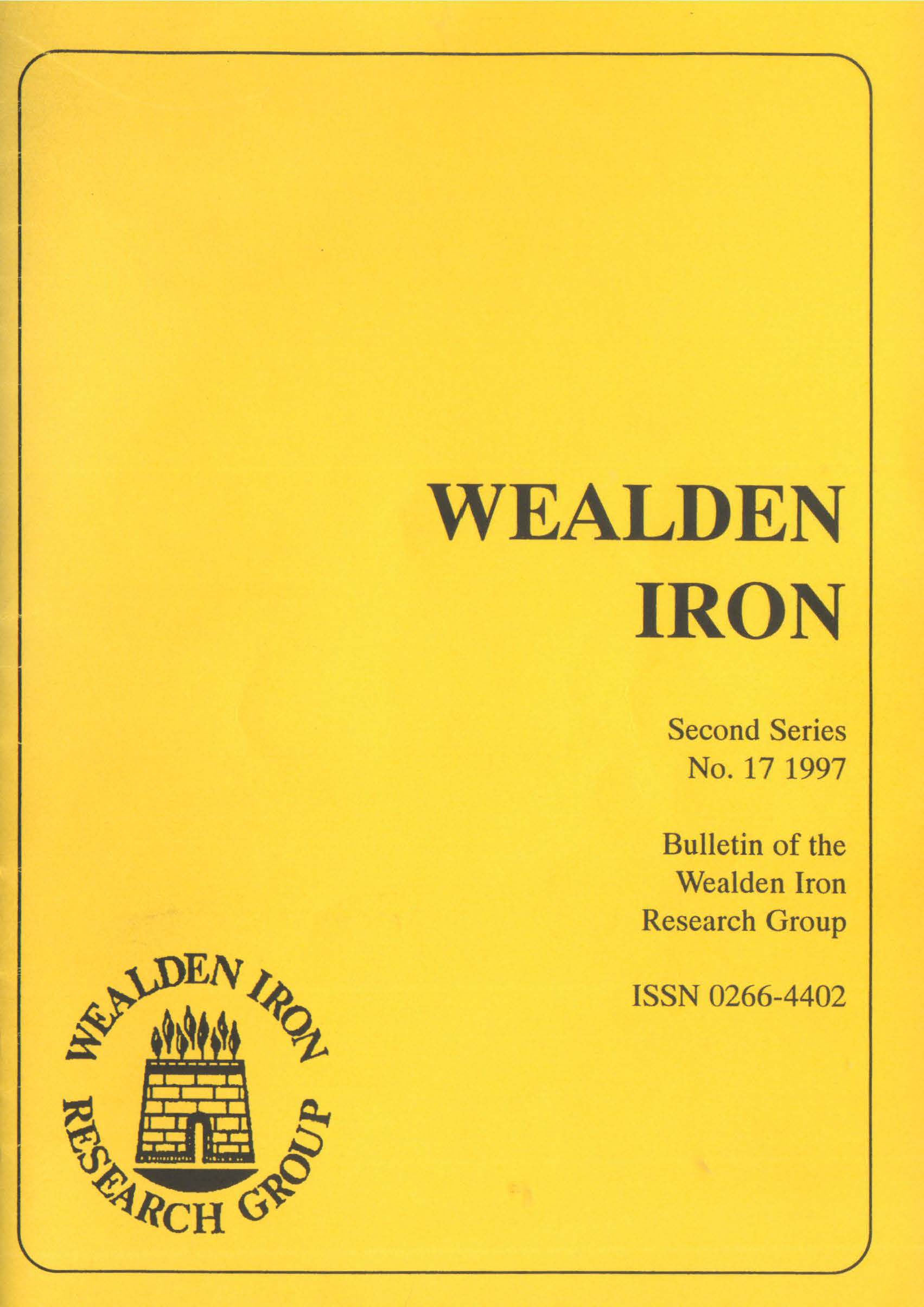 Field Notes:
– A bloomery at Forest Row, Sussex
– Bloomery slag at Peasmarsh, Sussex
– Two Romano-British bloomeries at Heathfield, Sussex
– A bloomery at Waldron, Sussex
– A bloomery at Hartfield, Sussex
– Wilderness Wood, Hadlow Down, Sussex
– Saxon iron working at Hassocks, Keymer, Sussex
– Medieval iron working in Crawley, Sussex – further evidence
– Burgh Wood forge, Etchingham, Sussex
– Romano-British iron working at Burgess Hill, Sussex
– Further finds of bloomery slag at Outwood, Burstow, Surrey
Ebernoe furnace – site survey
Forges in the late eighteenth century Weald
A reconstruction of a Wealden conversion forge and boring mill
Burgh Wood forge, Etchingham
The supply of raw materials to the Heathfield ironworks
Wealden Iron, 2nd series, 18 (1998) pdf download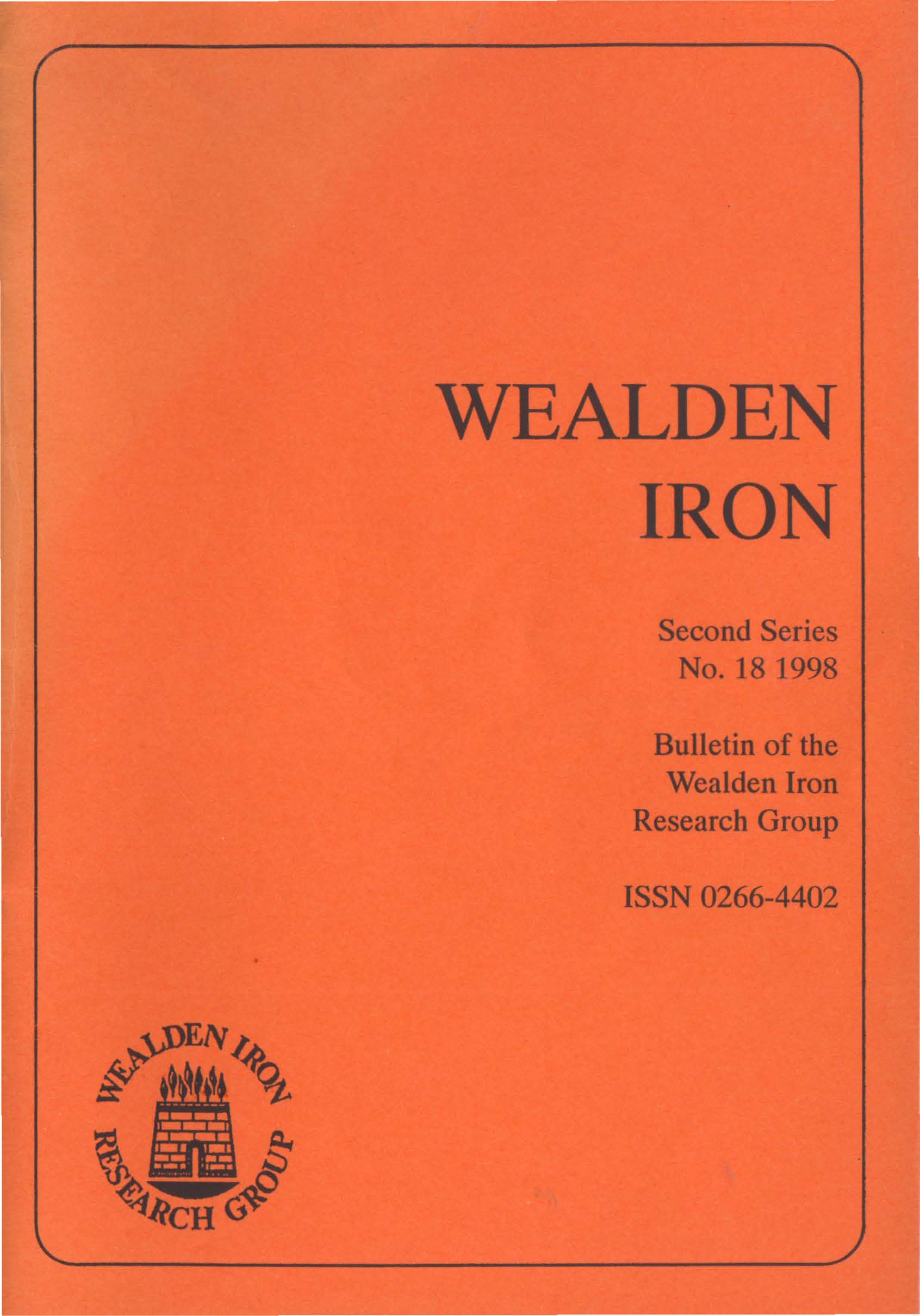 Field Notes:
– Further bloomeries at Peasmarsh, Sussex
– Possible medieval iron working in Burstow, Surrey
– Two bloomeries in Maresfield, Sussex
– Two Romano-British bloomeries at Hadlow Down, Sussex
– A late-Iron Age bloomery at Waldron, Sussex
– A bloomery at Newenden, Kent
– A bloomery at Sutton Valance, Kent
– Medieval bloomery slag at Loxwood, Surrey
– Two medieval iron-working hearths at Crawley, Sussex
– The Domesday ferraria
– Bloomery slag at Heathfield, Sussex
– Stumbleholm bloomery, Ifield, Sussex
The Tudeley Ironworks Accounts
Hawksden forge, Mayfield, and the Sands family
'Brass' casting at a Kent furnace
Wealden Iron, 2nd series, 19 (1999) pdf download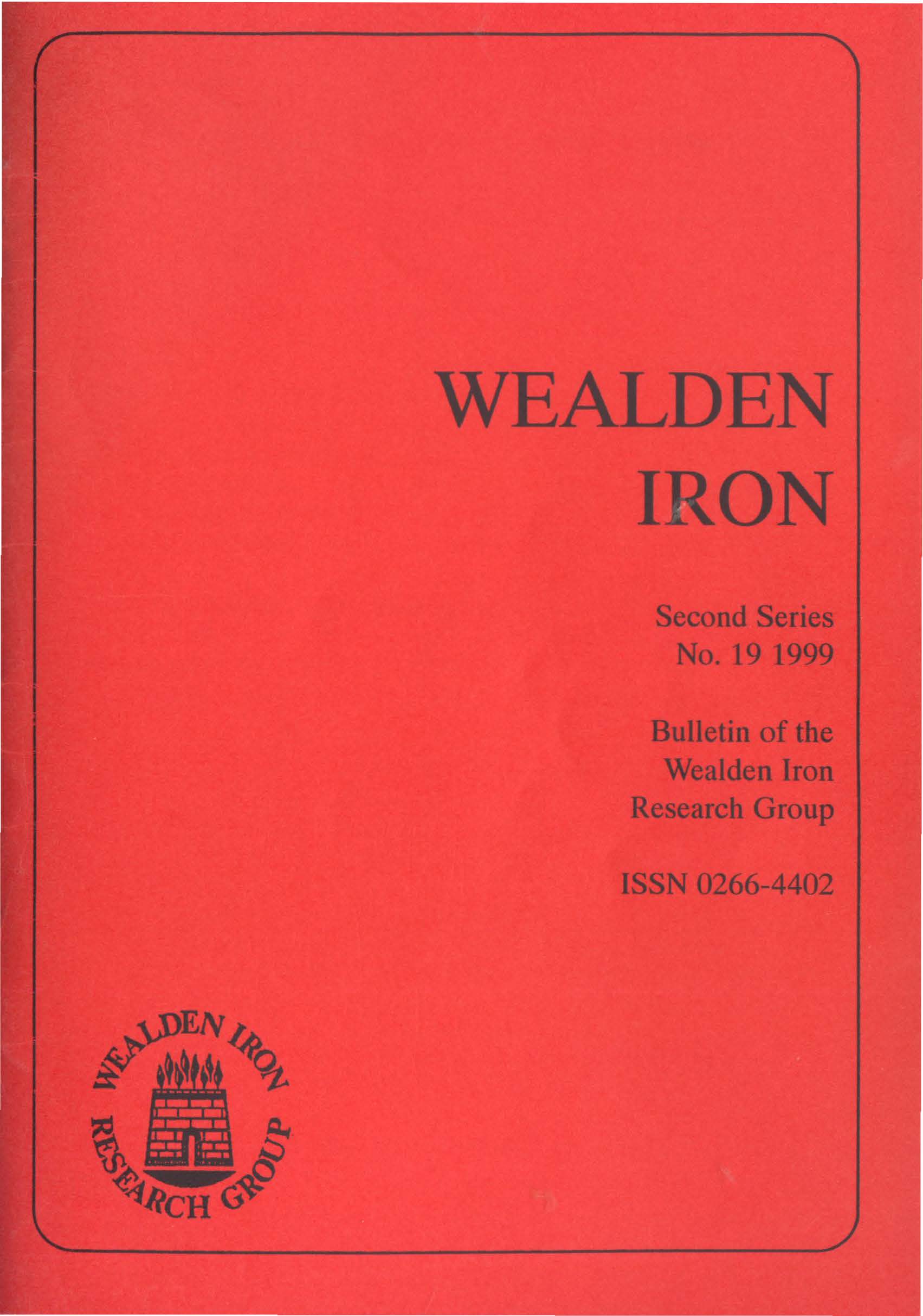 Field Notes:
– The Domesday ferraria
– A Romano-British Bloomery at Heathfield, Sussex
– A bloomery at Bletchingley, Surrey
The Wealden Iron Research Group Experimental Bloomery Furnace
Vachery Forge and Furnace, Cranleigh, Surrey
Frith Furnace, Northchapel – Site Survey 1999
Notes from the Board of Ordnance Papers 1705-1720
Swedenborg's Description of English Iron-making
Wealden Iron, 2nd series, 20 (2000) pdf download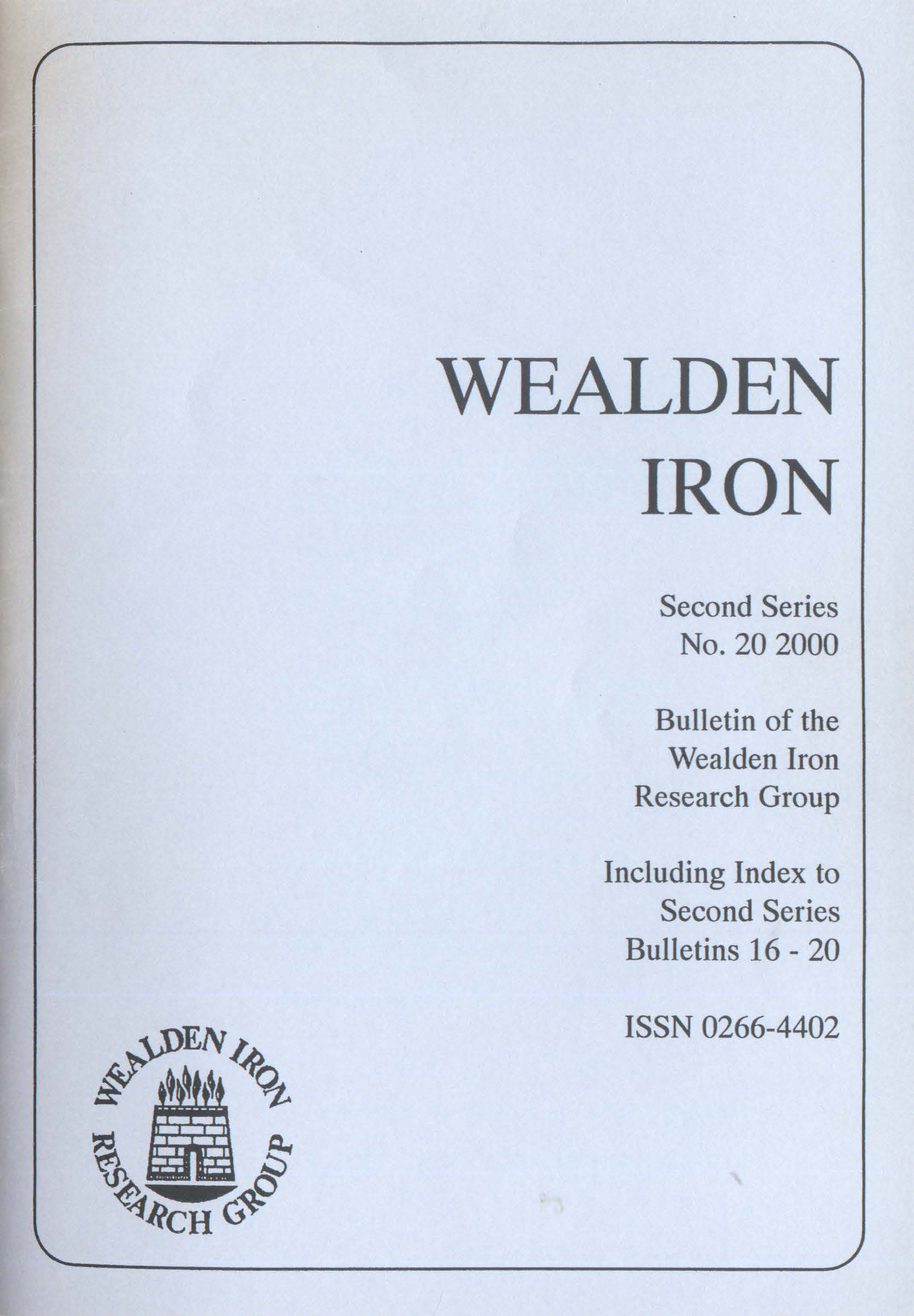 Field Notes:
– Two Romano-British bloomeries at Waldron, East Sussex
– A bloomery at Nutfield, Surrey
– A Romano-British bloomery at High Hurstwood, Buxted, East Sussex
– A bloomery at Egerton, Kent
– A bloomery at Pluckley, Kent
– Two bloomeries in Forest Row, East Sussex
– A bloomery in West Hoathly, West Sussex
– Medieval iron working at Mersham, Kent
– Roman road at Shortbridge, East Sussex
– A bloomery furnace at Forest Row, East Sussex
– Three bloomeries at Blackham, Withyham, East Sussex
– Cinderfield, Ightham, Kent
An unusual type of slag at Heathfield
Two bloomeries near Bletchingley, Surrey
A gazetteer of medieval iron-making sites in the Weald
Iridge Furnace, Hurst Green
Notes from the Office of the Ordnance: the 1650s
Index to Wealden Iron, Second series, 16–20 (1996-2000)
Wealden Iron, 2nd series, 21 (2001) pdf download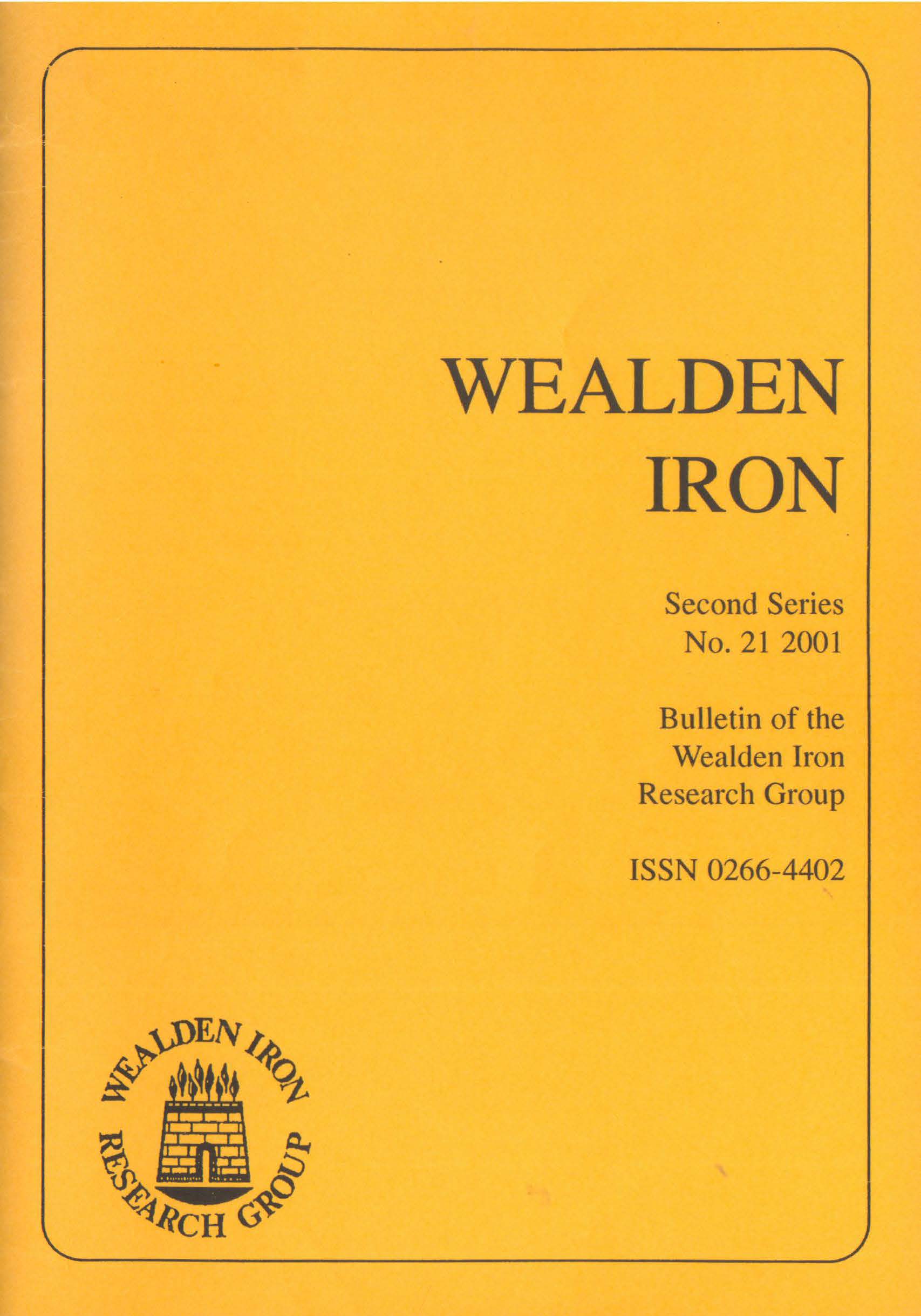 Field Notes:
– A Romano-British bloomery in Maresfield East Sussex
– An Iron Age/Romano-British iron forging site at Ford, West Sussex
– Bloomeries in East Hoathly, East Sussex
– Oaklands Romano-British ironworking site, Westfield, East Sussex
– A bloomery in East Grinstead, West Sussex
– Mill Place furnace, East Grinstead, West Sussex
– Corrigenda and Addendum
Iron-working Sites in the Weald of Kent
Extracts from the Debenture Books of the Office of Ordnance, 1593-1610
Wealden Ironmasters in the Midlands
The Sussex Weekly Advertiser – further extracts relating to the iron industry
Mortars cast for Gibraltar
Index to Wealden Iron, Second series, 21 (2001)
Wealden Iron, 2nd series, 22 (2002) pdf download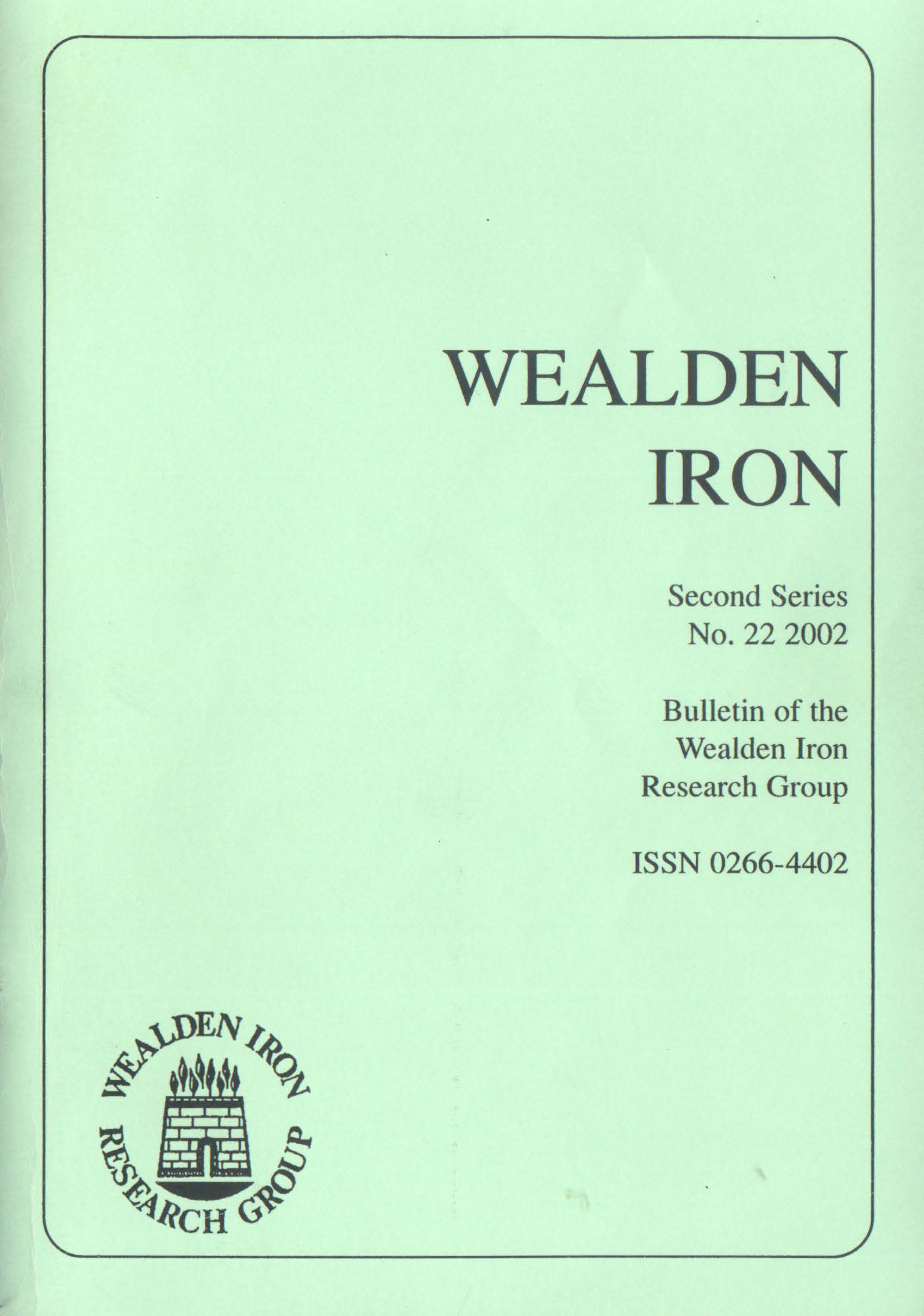 Field Notes:
– A bloomery in Beckley, East Sussex
– A bloomery in Brightling, East Sussex
– Two bloomeries in Burwash, East Sussex
– A bloomery in Kirdford, West Sussex
– Four bloomeries in Hartfield, East Sussex
– A Romano-British ore-roasting pit in Beckley, East Sussex
Two possible medieval bloomery sites in Alfold, Surrey
Iron Plat, Queenstock hammer pond and a 15th century ironworking site at Buxted
Re-dating an early document
More additions to the catalogue of early Wealden graveslabs
The Penkhurst family of ironmasters
Bar iron production in the Weald in the early 18th century
Factors of production in mid-18th century Wealden iron smelting
Index to Wealden Iron, Second series, 22 (2002)
Wealden Iron, 2nd series, 23 (2003) pdf download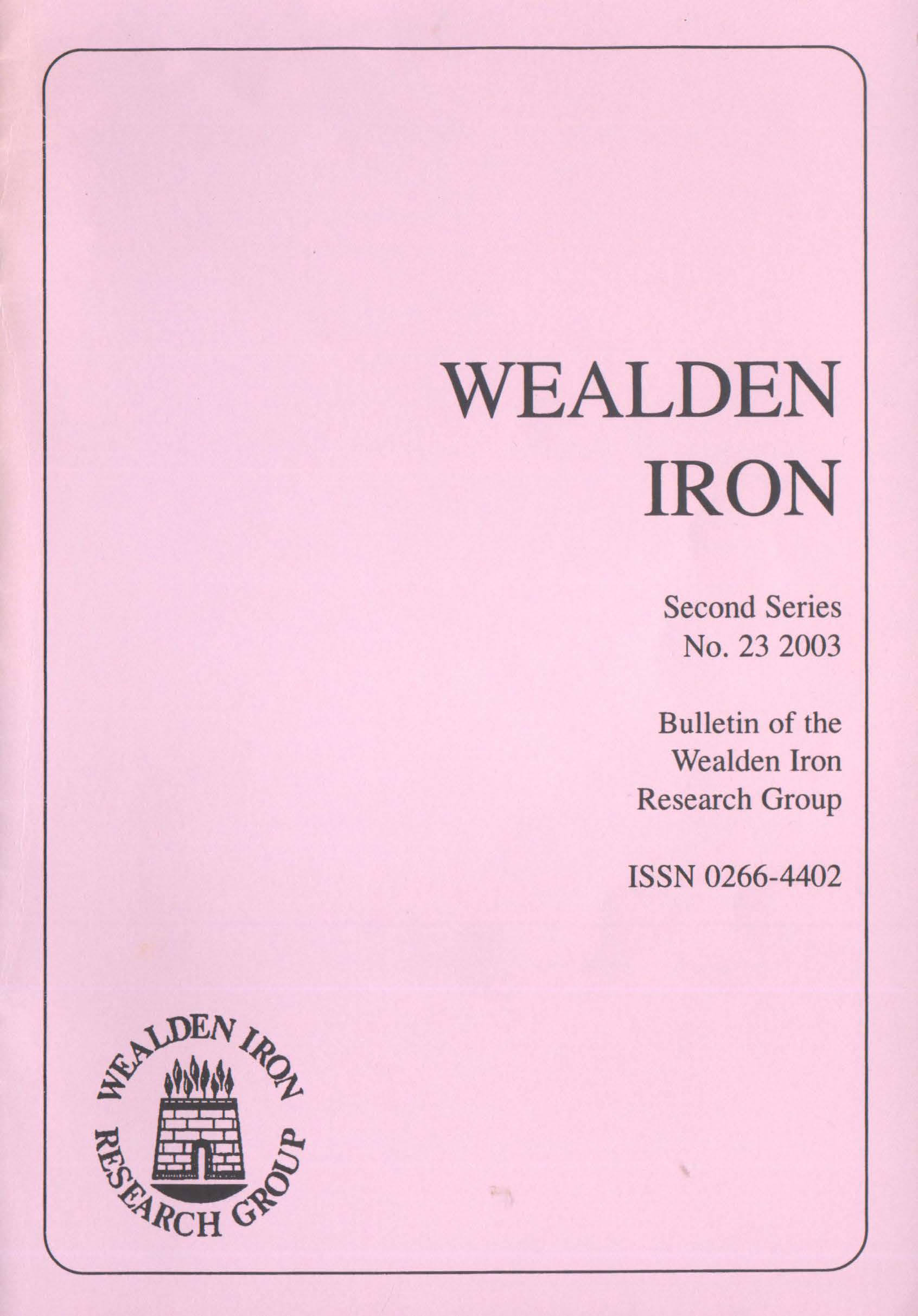 Field Notes:
– Stumbleholm Bloomery, Ifield, West Sussex
– Park Wood, Burwash, East Sussex
– Two bloomery sites in Mayfield, East Sussex
– A bloomery in Heathfield, East Sussex
– A medieval bloomery in Ticehurst, East Sussex
– A blast furnace at Netherfield, Battle, East Sussex: a new water-powered site identified
– A bloomery site in Crawley, West Sussex
– Iron Plat furnace and forge, Buxted, East Sussex
The Excavation of a First-Century Ironworks at Turners Green, Sussex, 1968-70
Crookford Furnace: not Cotchford but Worth
"John Trew is an Able Man"
Scrag Oak (Snape) Furnace
Index to Wealden Iron, Second series, 23 (2003)
Wealden Iron, 2nd series, 24 (2004) pdf download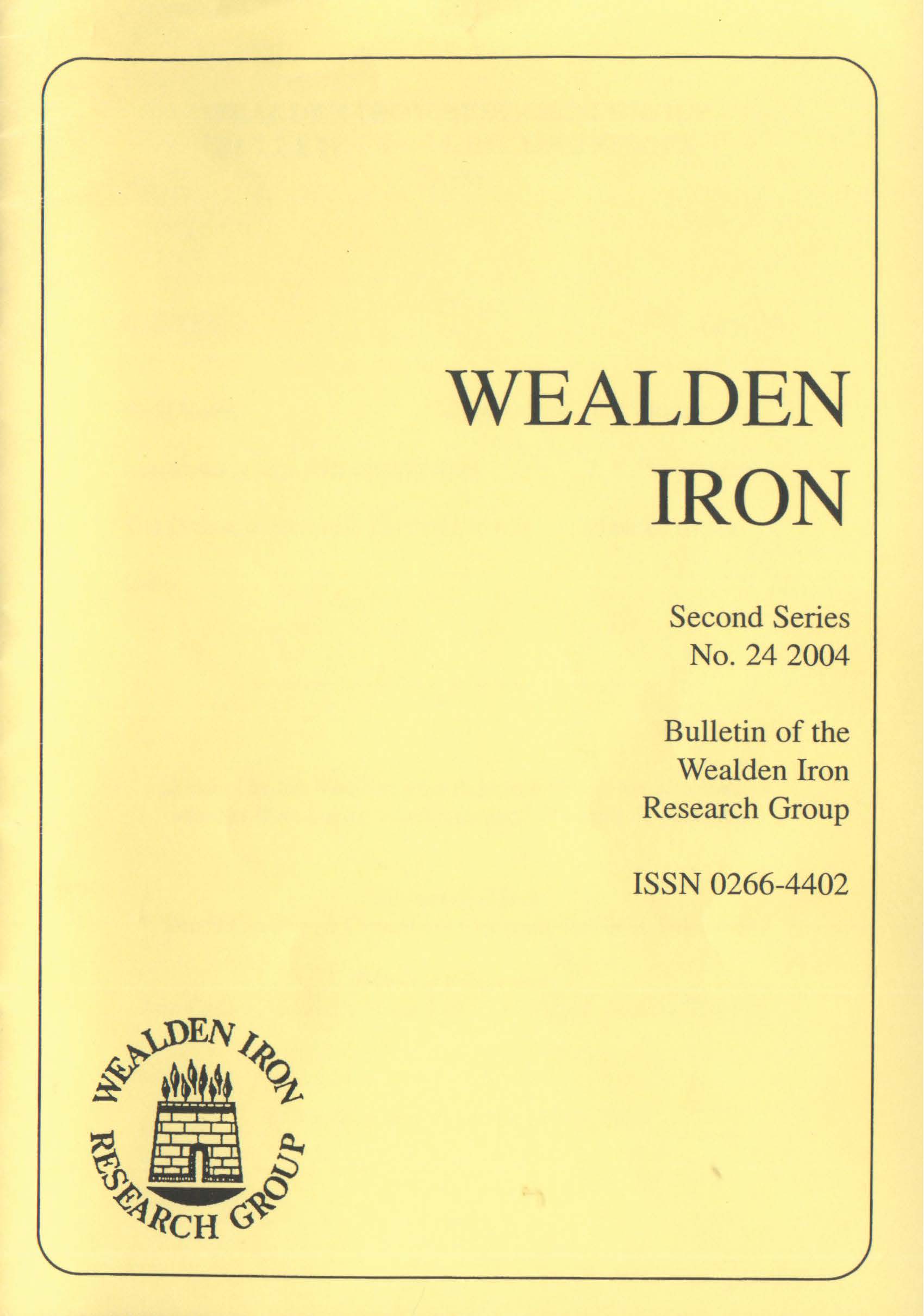 Field Notes:
– A bloomery in Battle, East Sussex
– A bloomery in Rotherfield, East Sussex
– Two bloomeries in Heathfield, East Sussex
– Bloomery slag in Netherfield, East Sussex
– Two bloomeries in Ticehurst, East Sussex
– An Iron Age bloomery in Forest Row, East Sussex
– A Romano-British domed bloomery furnace in Mayfield, East Sussex
Ironworks in late-16th century Kent
The Ordnance Records: Thomas Browne
Index to Wealden Iron, Second series, 24 (2004)
Wealden Iron, 2nd series, 25 (2005) pdf download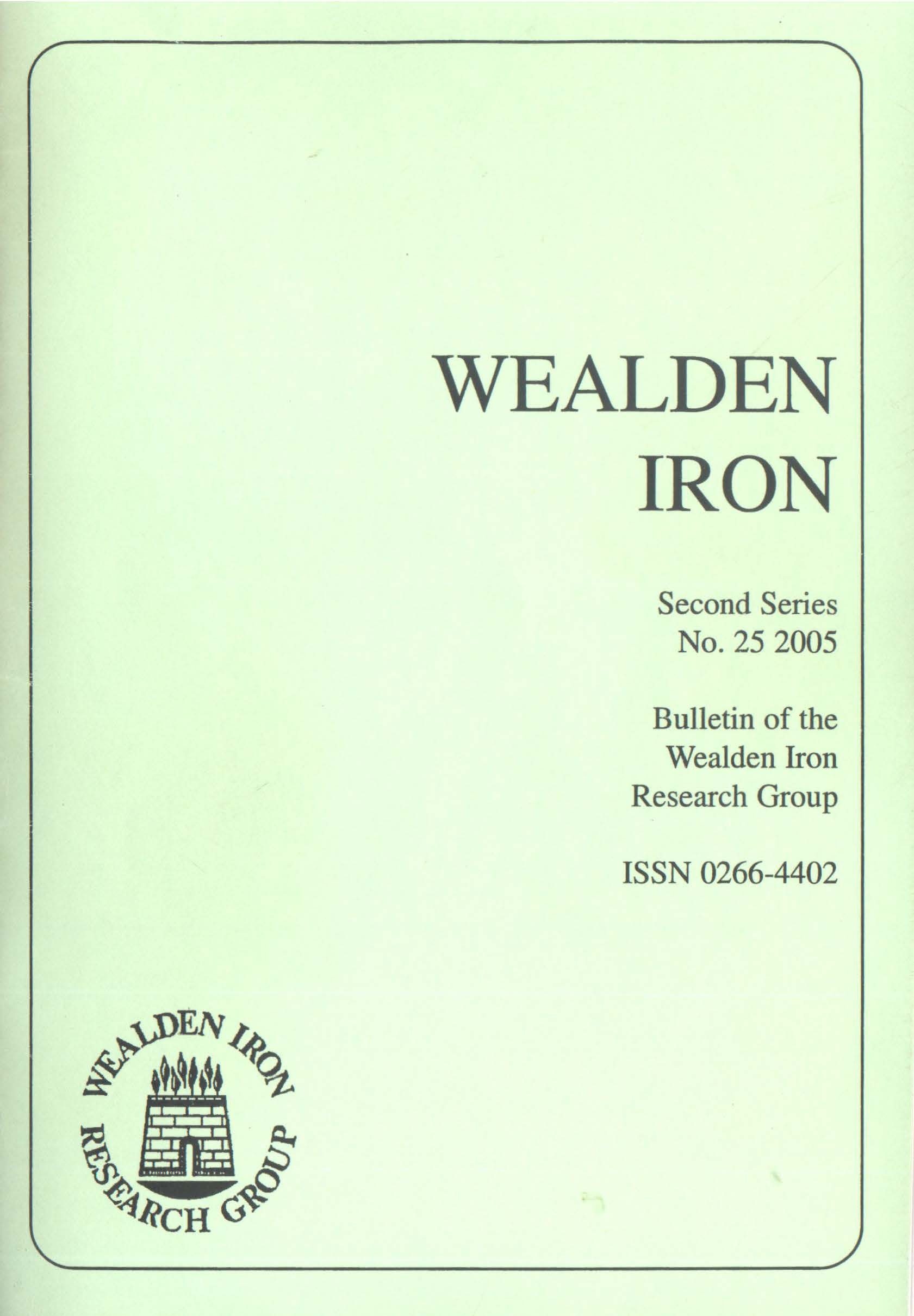 Field Notes:
– A bloomery in Peasmarsh, East Sussex
– Romano-British site at North Chailey, East Sussex
– Ashburnham Forge, East Sussex
– In search of Bournemill furnace, Kent
– In search of Iping furnace, West Sussex
– Two bloomery sites in Maresfield, East Sussex
– Bloomery slag in Mayfield, East Sussex
Early Kent ironworking sites
Bungehurst furnace, Heathfield – site survey
Warbleton Priory furnace
Charcoal production in woodland around the blast furnace at Darwell in East Sussex
John Browne, gunfounder to the Stuarts
Mr Littleton, supplier of ordnance material
Index to Wealden Iron, Second series, 25 (2005)
Wealden Iron, 2nd series, 26 (2006) pdf download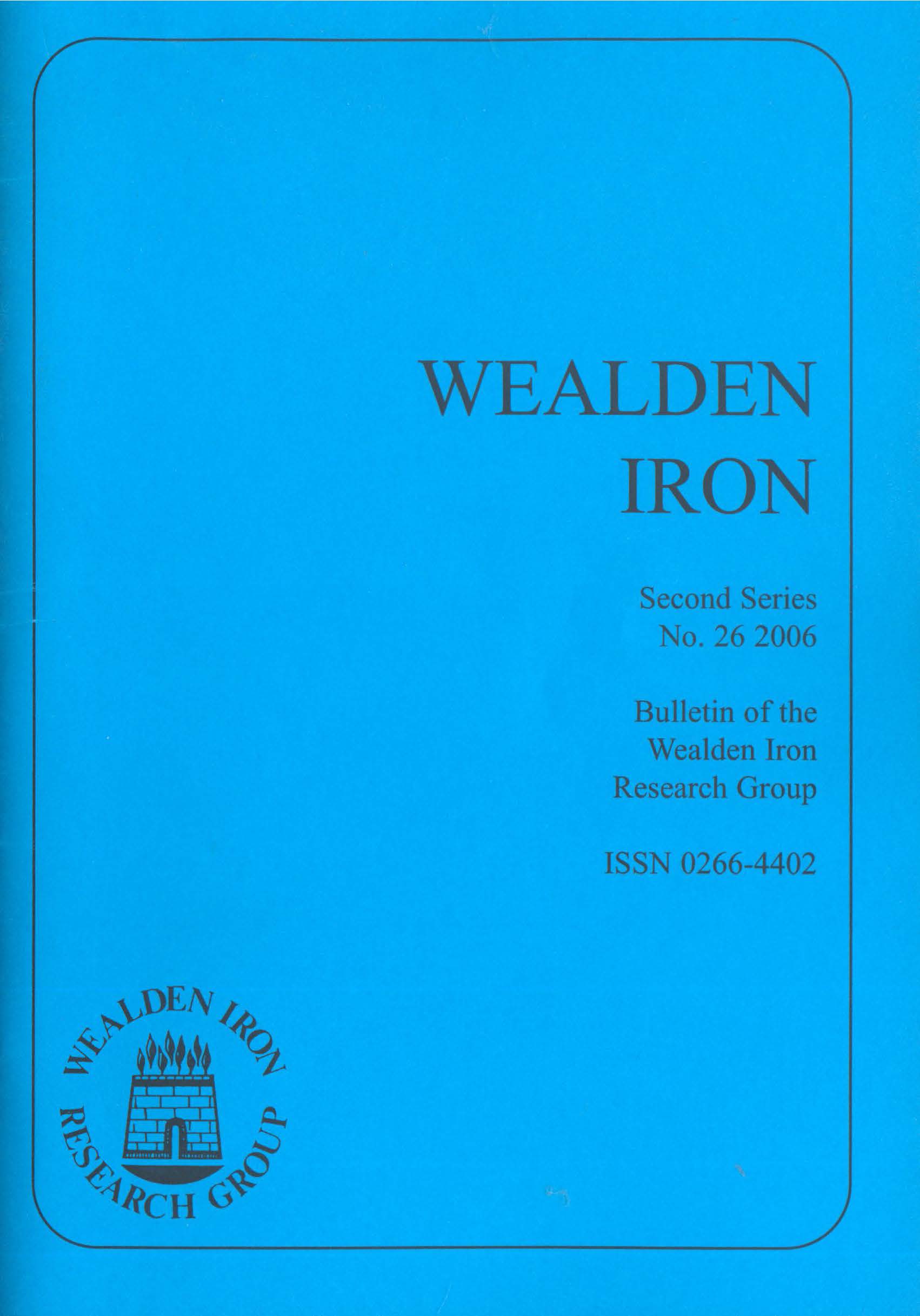 Field Notes:
– A possible Middle Iron Age bloomery in Hartfield
– A Roman-British bloomery in Maresfield
– A Late Iron Age bloomery in Maresfield
– A bloomery site in Maresfield
– Minepits in Milland, West Sussex
– A bloomery site in Hartfield, East Sussex
– A bloomery site in Rotherfield, East Sussex
Stephen Aynscombe and the Earl of Gondomar
The construction of a Wealden blast furnace
John Browne Gunfounder to the Stuarts; Part 2: bronze and iron guns 1630-45
Index to Wealden Iron, Second series, 26 (2006)
Wealden Iron, 2nd series, 27 (2007) pdf download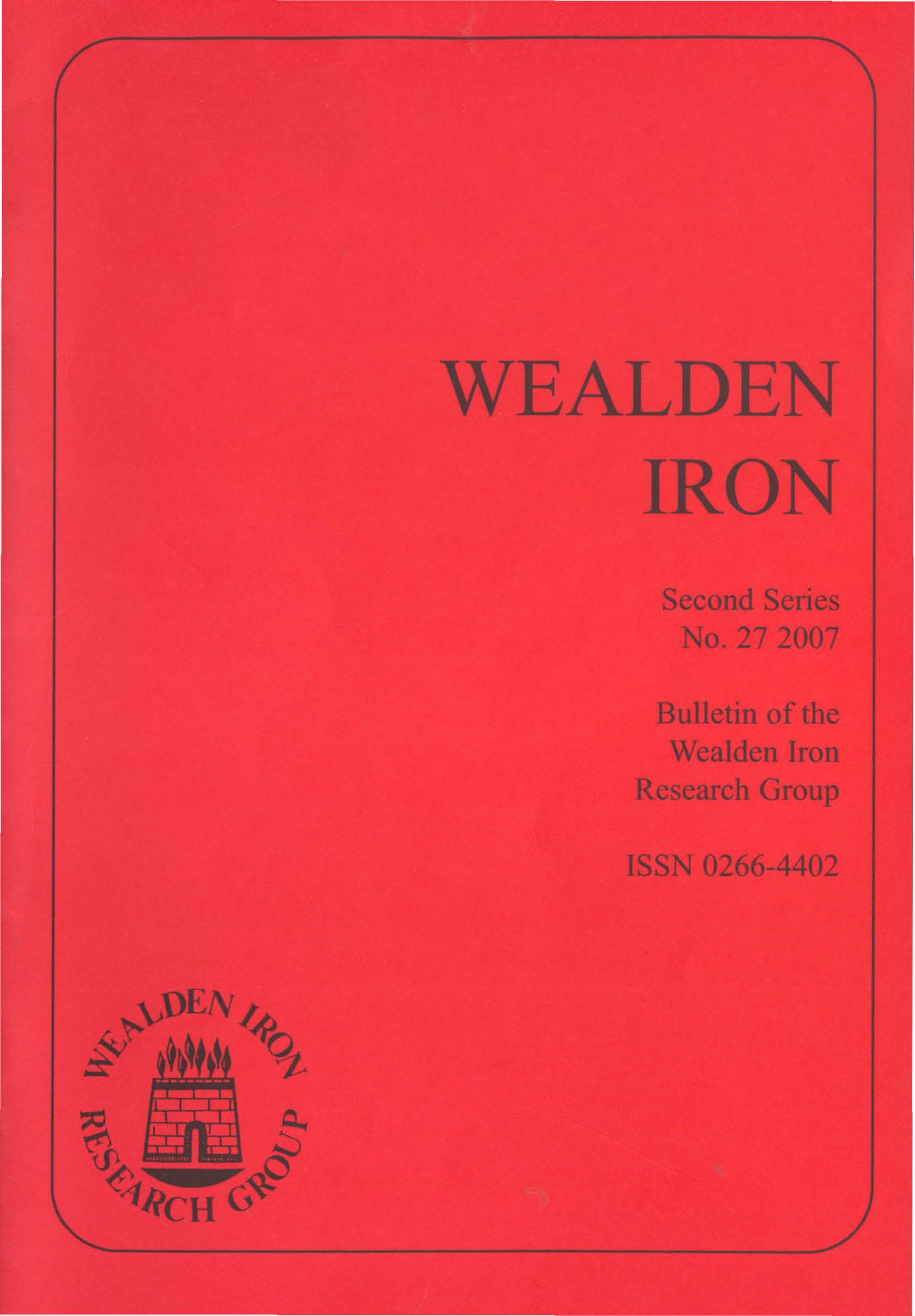 Field Notes:
– A Bloomery site in Rotherfield, East Sussex
– A Romano-British Bloomery site in Maresfield, East Sussex
– Three Bloomery sites in Fletching, East Sussex
– Two Bloomery sites in Brightling, East Sussex
– Telegraph Mill bloomery site, Icklesham, East Sussex
An experiment to test alternative conjectures about the covers of ore-roasting pits
Richard Woodman – ironmaster and martyr
A godly chimney plate and other firebacks from Brede
Index to Wealden Iron, 2nd Series, 27 (2007)
Wealden Iron, 2nd series, 28 (2008) pdf download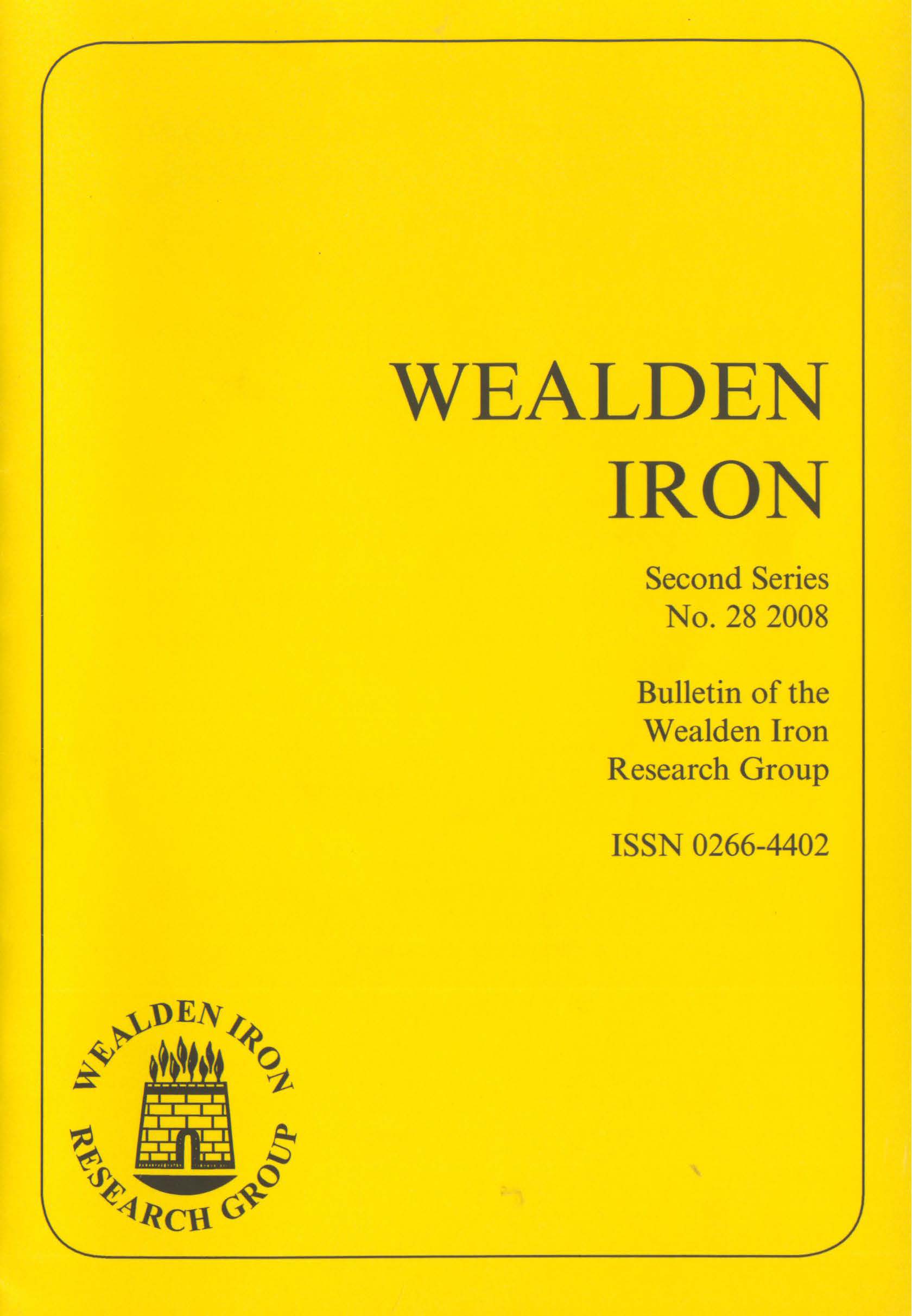 Field Notes:
– Ashdown Forest Iron Sites – updated locations
– A bloomery in Battle, East Sussex
– A bloomery in Ashburnham, East Sussex
– A bloomery in Catsfield, East Sussex
– Two bloomeries in Hartfield, East Sussex
– A bloomery in Beckley, East Sussex
– A bloomery site in Brede, East Sussex
– Two bloomery sites in Heathfield & Waldron, East Sussex
– A bloomery in Danehill, East Sussex
Iron Smelting in Kamalia
Thirteenth-century Ploughshares
Three Examples of Blast Furnace Dross
Two Additions to the Catalogue of Early Cast-iron Graveslabs
John Browne, Gunfounder to the Stuarts – Part 3
Index to Wealden Iron, 2nd series, 28 (2008)
Wealden Iron, 2nd series, 29 (2009) pdf download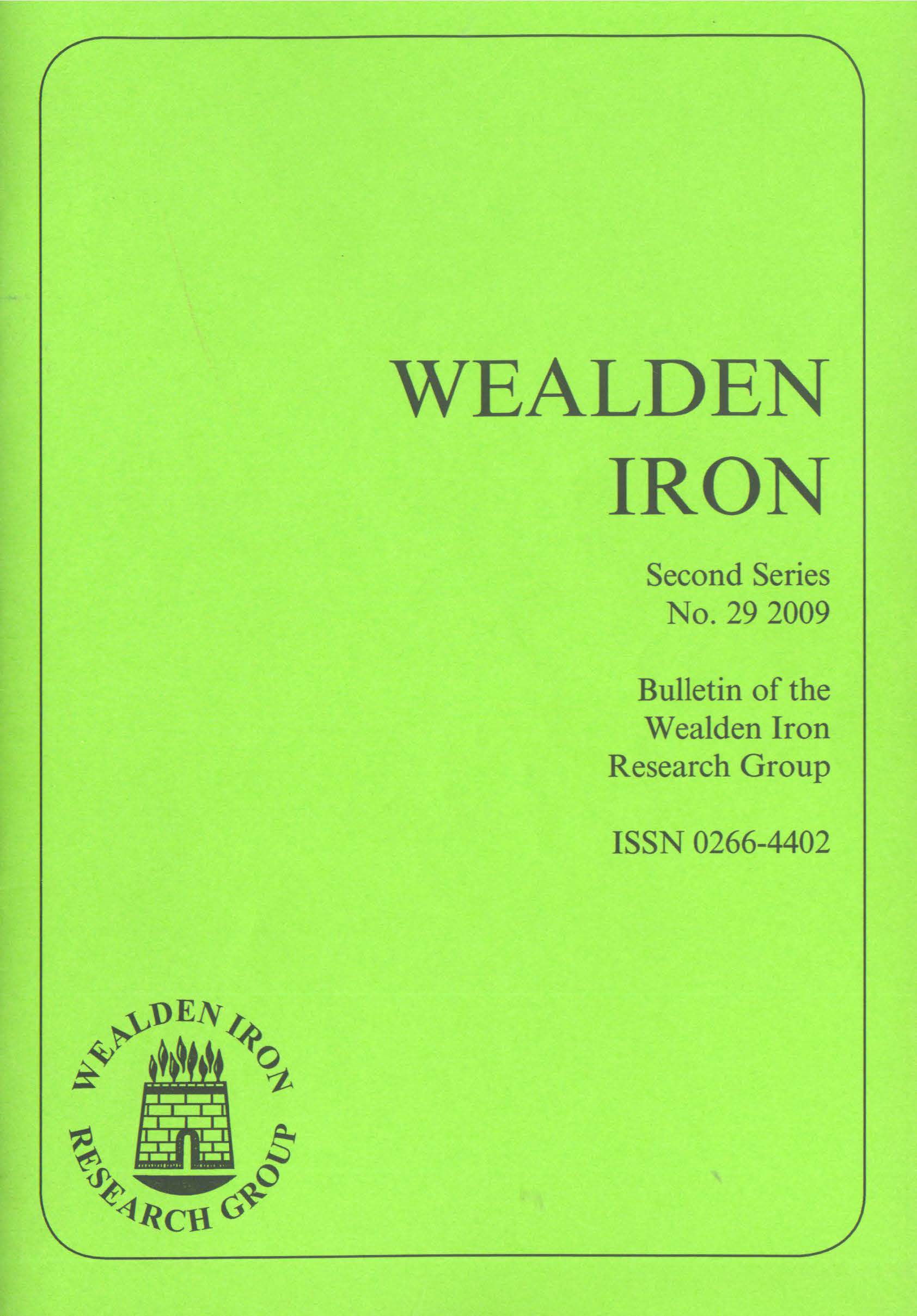 Field Notes:
– A bloomery in Sedlescombe, East Sussex
– Shorewell bloomery, Hadlow Down, East Sussex – revised location
– Two bloomery sites in Buxted, East Sussex
– A bloomery site in Warbleton, East Sussex
– Chantler's Farm medieval bloomery site, Hartfield, East Sussex
– Roman iron-working slag at Wittersham, Kent
– Two bloomery sites in Benenden, Kent
Recent Fieldwork at Smarden, Kent
Bloomery Slag from Newark Priory, Ripley, Surrey
The Legas-Remnant Letters
Index to Wealden Iron, 2nd series, 29 (2009)
Wealden Iron, 2nd series, 30 (2010) pdf download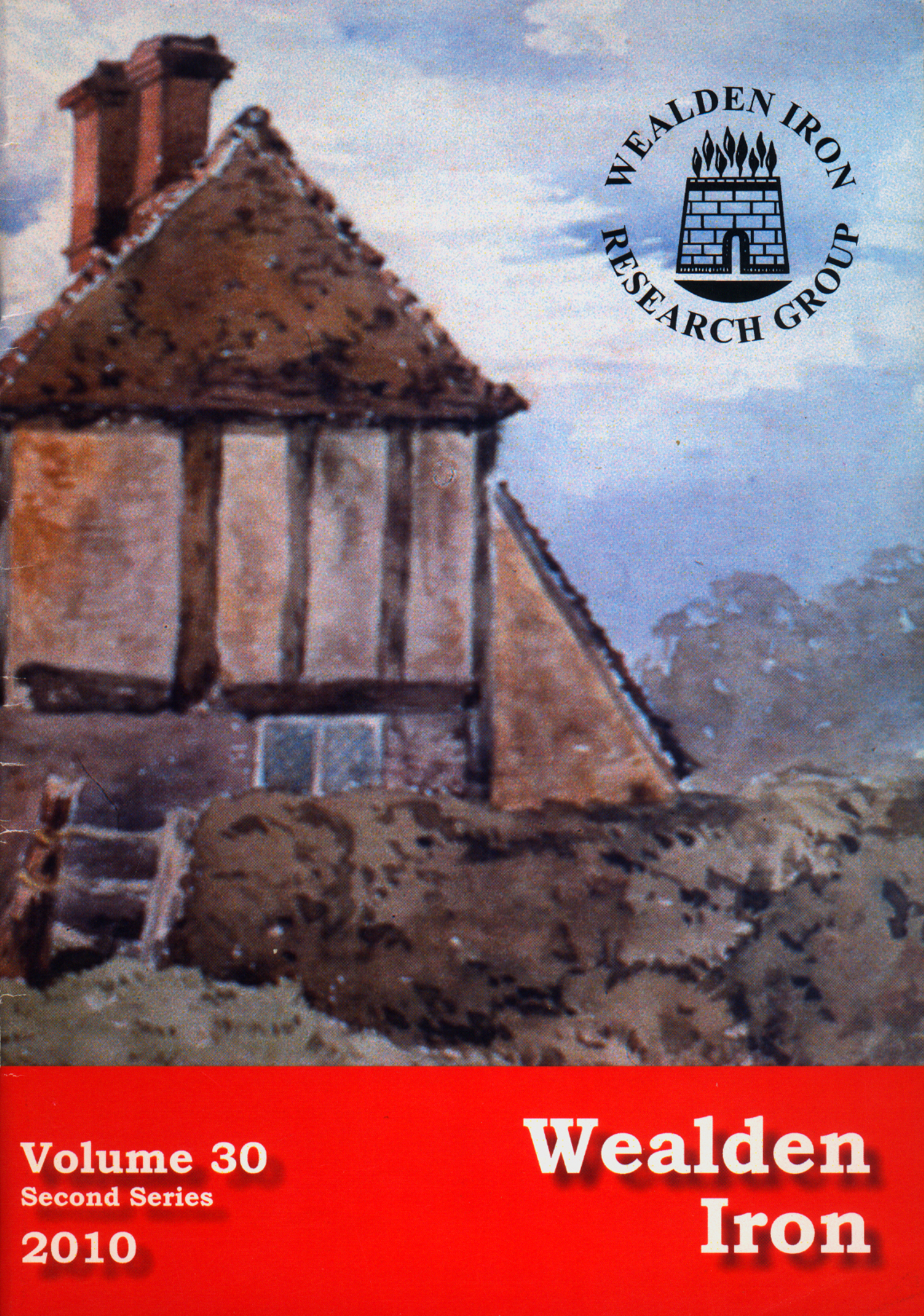 Field Notes:
– A bloomery in Dallington, East Sussex
– Two bloomeries in Beckley, East Sussex
– A bloomery in Forest Row, East Sussex
– A bloomery site in Heathfield, East Sussex
– A bloomery site in Warbleton, East Sussex
– A bloomery in Wadhurst, East Sussex
– A bloomery site in Wadhurst, East Sussex
– A bloomery in Brightling, East Sussex
– A bloomery in Ticehurst, East Sussex
– A possible Saxon bloomery in Hartfield, East Sussex
Documentary and literary evidence relating to Burwash Forge and Wynhamford Mill, East Sussex
Pot founders at Wealden ironworks
Addition to the catalogue of early iron graveslabs
Some operating characteristics of Wealden Iron industry waterwheels, bellows and tuyeres
Index to Wealden Iron, 2nd series, 30 (2010)
Wealden Iron, 2nd series, 31 (2011) pdf download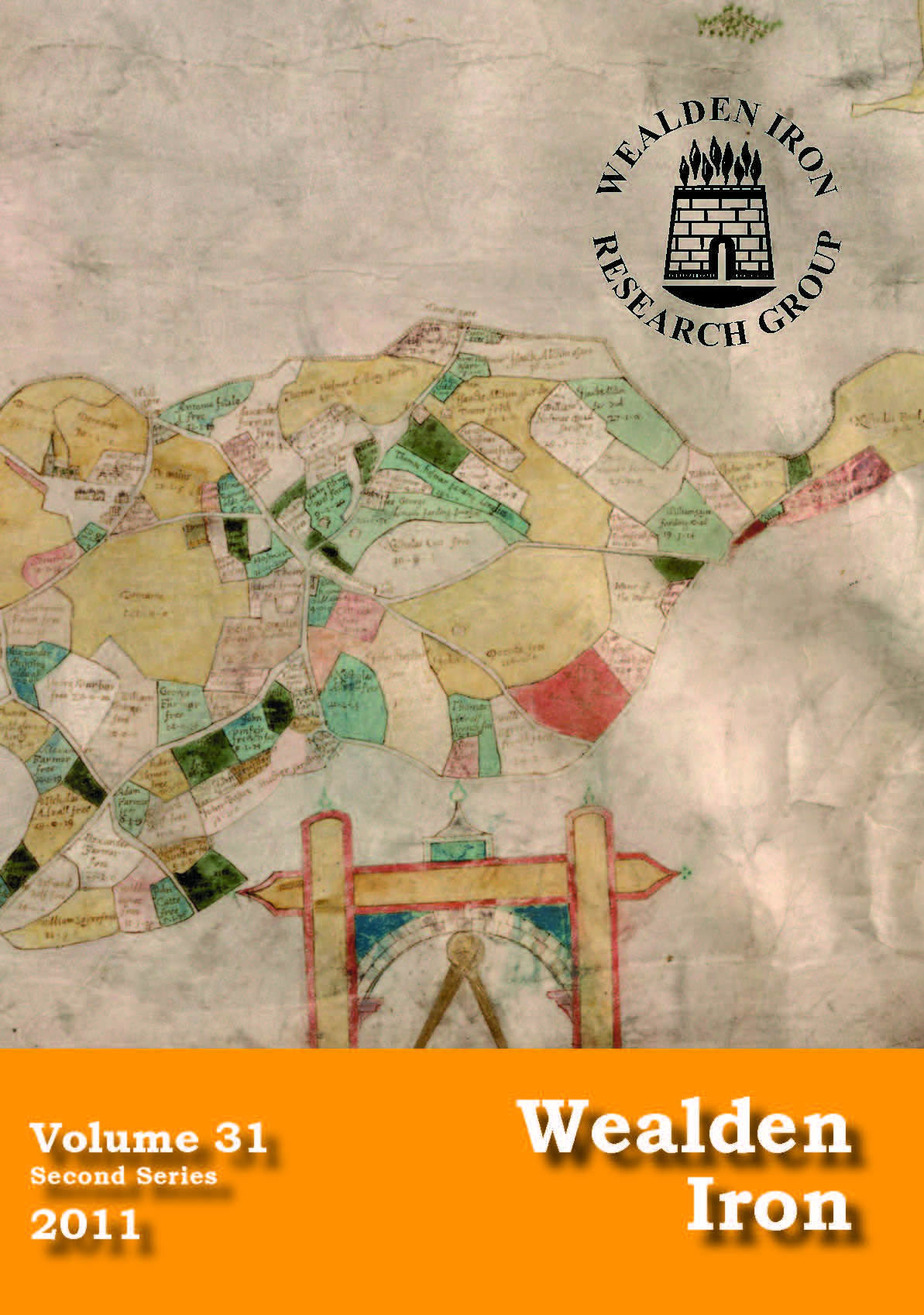 Field Notes:
– Two Bloomery sites in Hadlow Down, East Sussex
– A Bloomery site in Mountfield, East Sussex
– Toll Wood Bloomery, Battle, East Sussex – a correction
– A Bloomery site in Hartfield, East Sussex
– A Bloomery site in Benenden, Kent
– A Bloomery site in Brede, East Sussex
– A Bloomery in Brightling, East Sussex
The Wealden 'Double Tuyere'
A Contemporary Illustration of a Sixteenth-Century Ironworks
Witley Park Furnace, Witley, Surrey
The Landscape of Witley Park Furnace Site
Anthony Fowle, Wealden Ironmaster and Lawyer
Index to Wealden Iron, Second series, 31 (2011)
Wealden Iron, 2nd series, 32 (2012) pdf download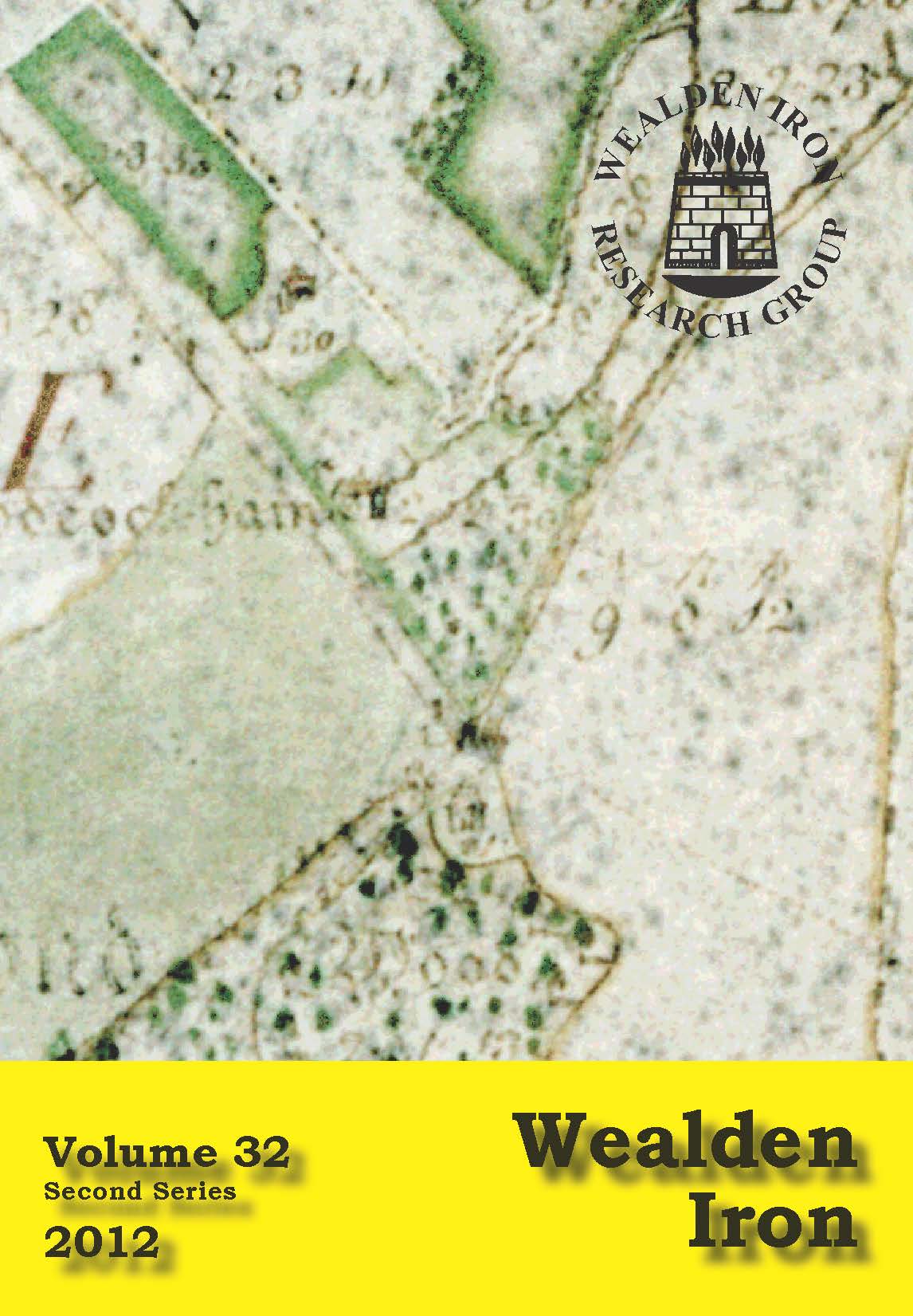 A bloomery site in Burwash, East Sussex
Crowhurst Forge, Surrey – a new site identified
Notices of Wealden ironworks in early English newspapers
The location of Etchingham Forge
Modelling business performance of a mid 18th-century cannon manufacturer
Index to Wealden Iron, Second series, 32 (2012)
Wealden Iron, 2nd series, 33 (2013) pdf download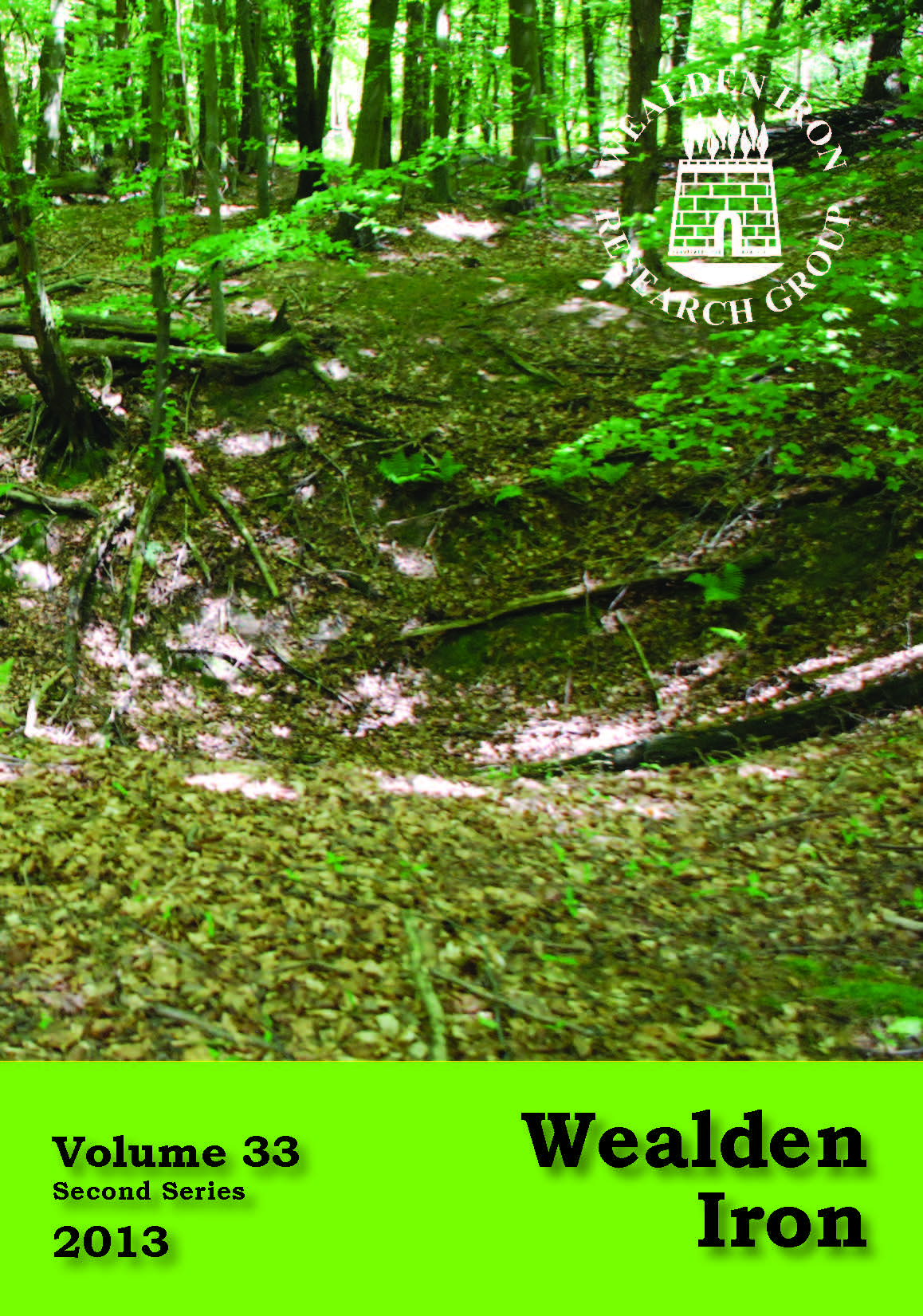 Field Notes:
– A bloomery site in Danehill, East Sussex
– A probable late second-century bloomery in Stone-cum-Ebony, Kent
– Further investigations in the Dudwell Valley
Archaeological investigations on a pre-Roman Iron Age site at Whitepost Wood, nr. Holtye, Hartfield, East Sussex
Some operating characteristics of Wealden iron-industry waterwheels, bellows and tuyeres – addendum
St Leonard's Forest minepits
A Pope family fireback
Hothfield Forge, Kent – a new water-powered site
Estimating 18th-century cannon boring times, costs and throughputs
Issues, emotions and achievements – managers and agents of a mid 18th-century cannon manufacturer
Index to Wealden Iron, Second series, 33 (2013)
Wealden Iron, 2nd series, 34 (2014) pdf download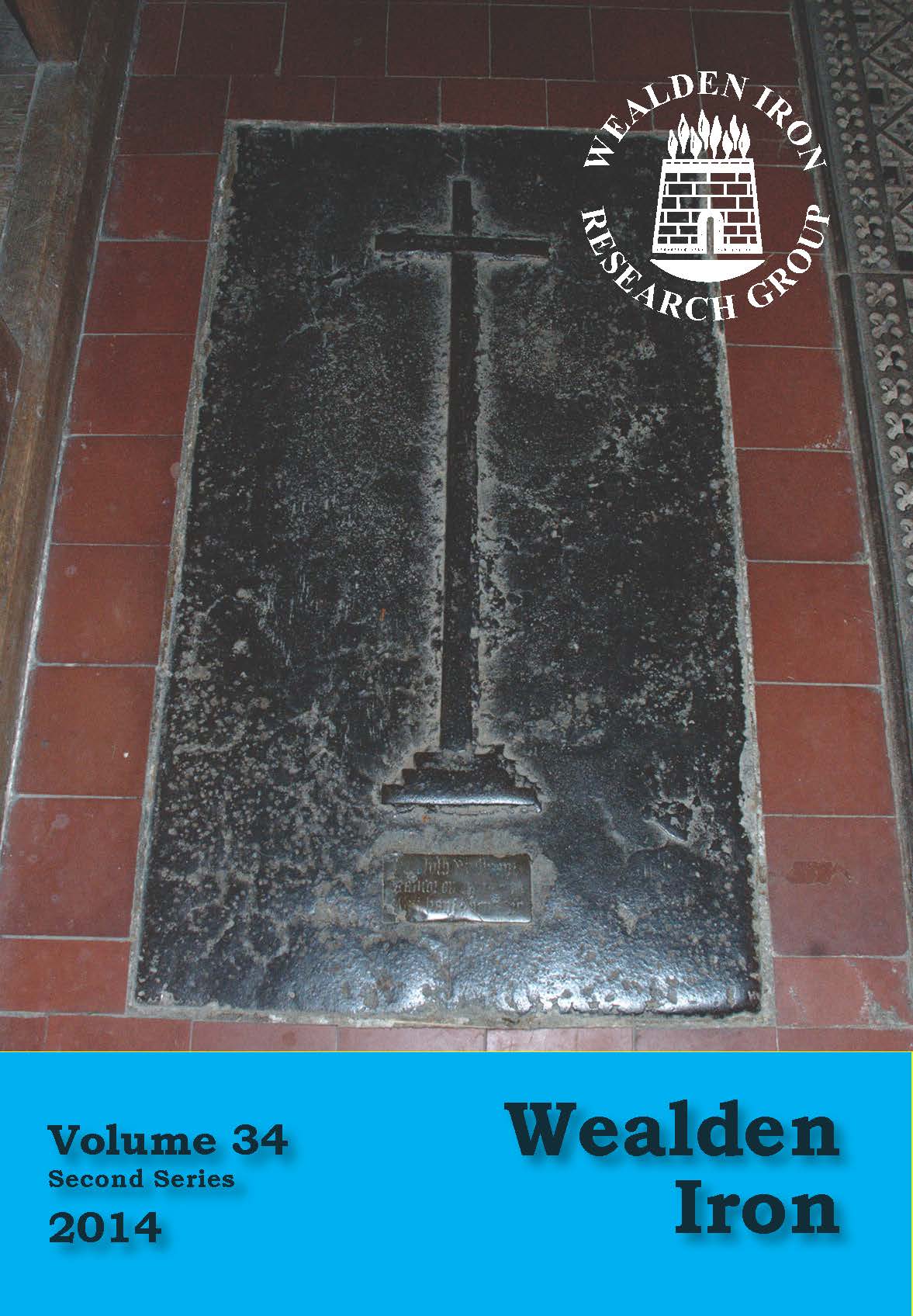 Field Notes:
– Huntsbank and Hooks Woods, Hadlow Down, East Sussex
– Forewood, Crowhurst, East Sussex
A view of experimental smelting practices and an interpretation of some of the underpinning theories
Wealden ores and smelting potentials to produce a bloom – a note
Exploring historical calcining effectiveness for Wealden ores
The iron memorial in St Michael's Church, East Peckham, Kent – a correction
Personnel at St Leonard's Forest ironworks 1587-8
Cowden furnaces in the late-16th century – some further comments
Biddenden Hammer Mill: site survey
Errata: Wealden Iron, 2nd ser. 33 (2013), 45. 69
Index to Wealden Iron, Second series, 34 (2014)
Wealden Iron, 2nd series, 35 (2015) pdf download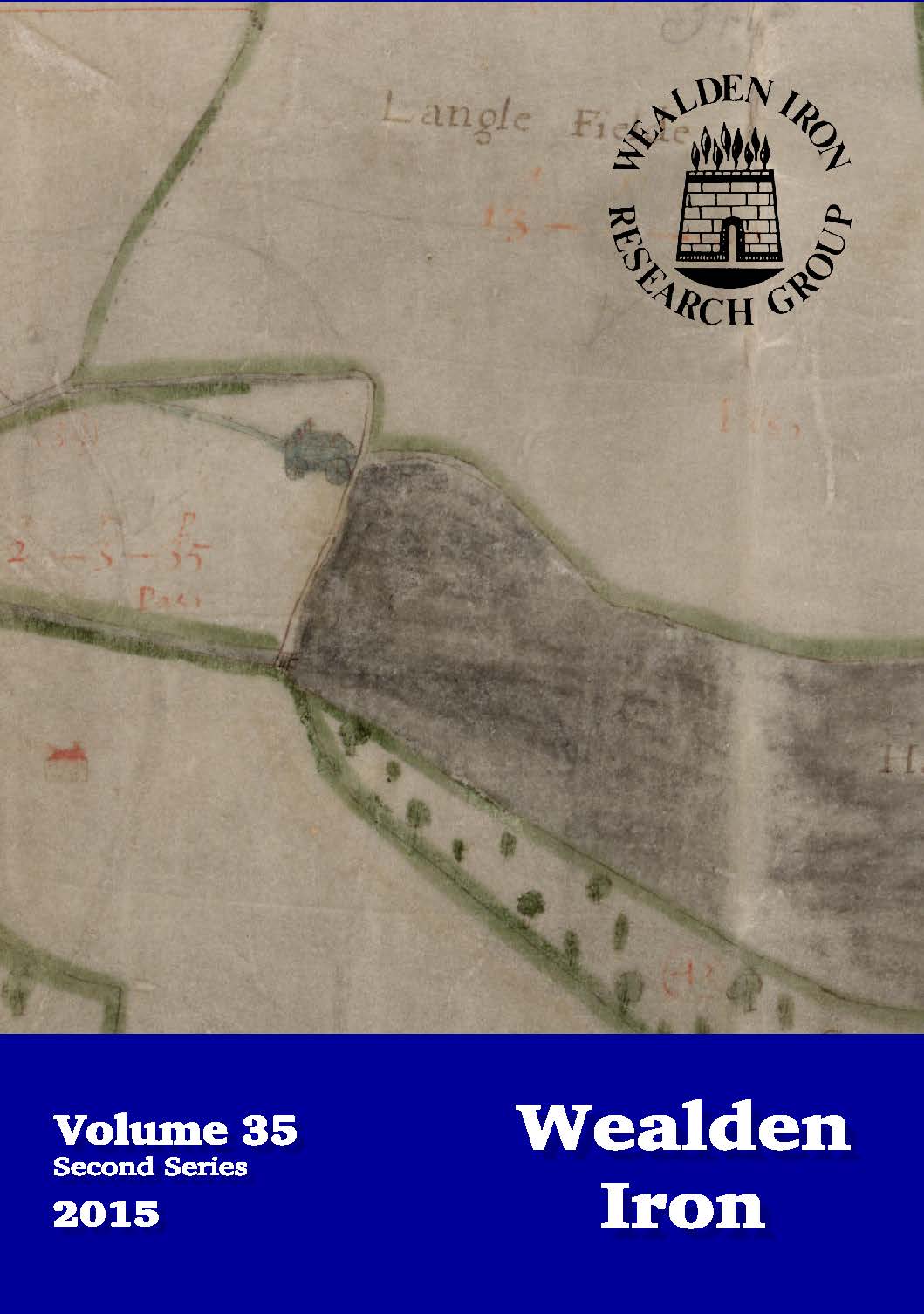 Field Notes:
– A bloomery site in Ticehurst, East Sussex
– A Middle Iron Age bloomery in Southborough, Kent
– Bloomery furnaces in Crawley, West Sussex
– Fernhurst Furnace dendrochronology
– A Late-Iron Age/Romano-British bloomery at Catsfield, East Sussex
– Bloomery sites in Waldron and Chiddingly, East Sussex
– Ore finds at sites and locations in Outwood, Surrey
Exploring how ore bloom potential and other factors influence iron yields
Genesis of bloomery iron – a note
Wealden iron, heretics and martyrs in Marian Sussex
A bloomforge in Frant – the case of Marriott's Croft
'Kinians' Forge – a suggested identification
Thursley Upper Hammer Pond
Fuller's description – not a Wealden blast furnace
Index to Wealden Iron, Second series, 35 (2015)
Wealden Iron, 2nd series, 36 (2016)-Part I pdf download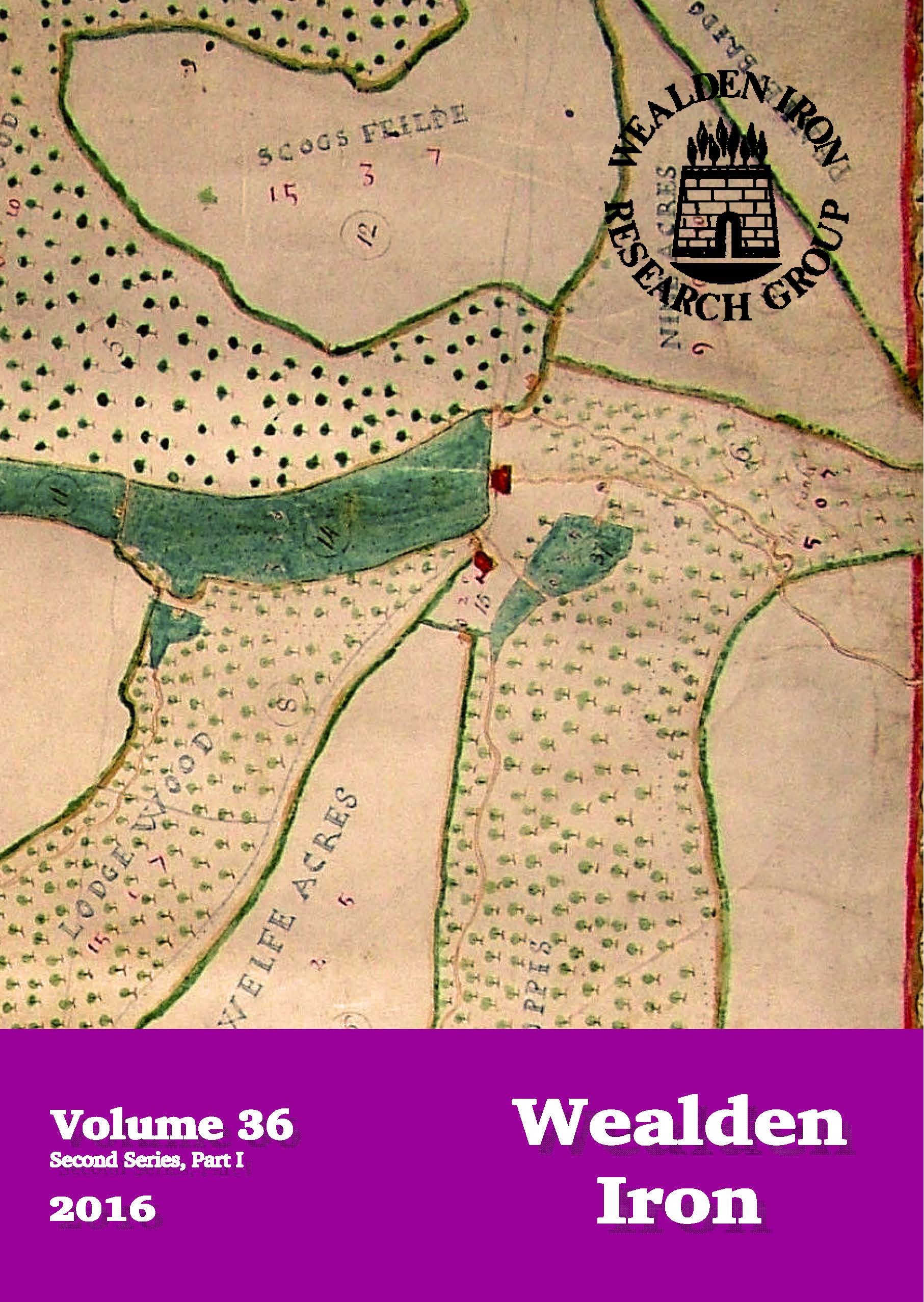 Field Notes:
– Brokes Wood Middle Iron Age bloomery, Southborough, Kent
– Two bloomeries in Gilly Wood, Brede, East Sussex
– A bloomery and iron ore workings in Hawkhurst Common Wood, Waldron, East Sussex
– A multi-period ironworking site in Withyham, East Sussex
– A Middle Iron Age bloomery in Lindfield Rural parish, West Sussex
– East Lymden Furnace – a reinterpretation
Henly and Riverhall Ironworks
The location of Mayfield Finery Forge
Stream Forge, Furnace and Boring Mill, Chiddingly
Early Newspapers: Further references to the iron trade
The Prickett family and Wealden iron
Index to Wealden Iron, Second series, 36 (2016) Part I
Wealden Iron, 2nd series, 36 (2016)-Part II pdf download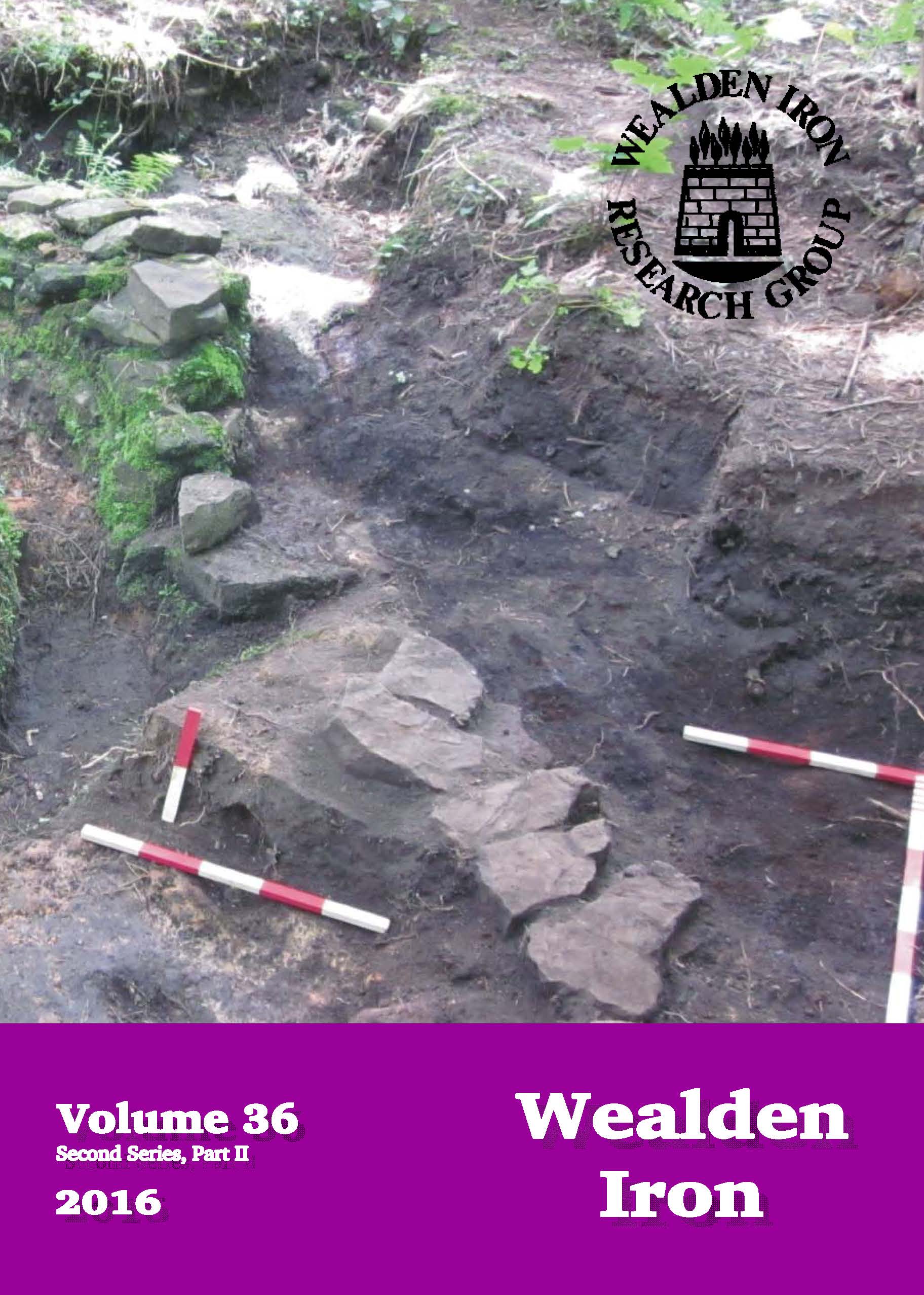 Excavation of an iron-working site at Scott's Hollow, Salehurst, East Sussex – an interim report
Effects of furnace clay losses on bloom yields
Smelting processes influences on bloomery iron yields
Index to Wealden Iron, Second series, 36 (2016) Part II

Wealden Iron, 2nd series, 37 (2017) pdf download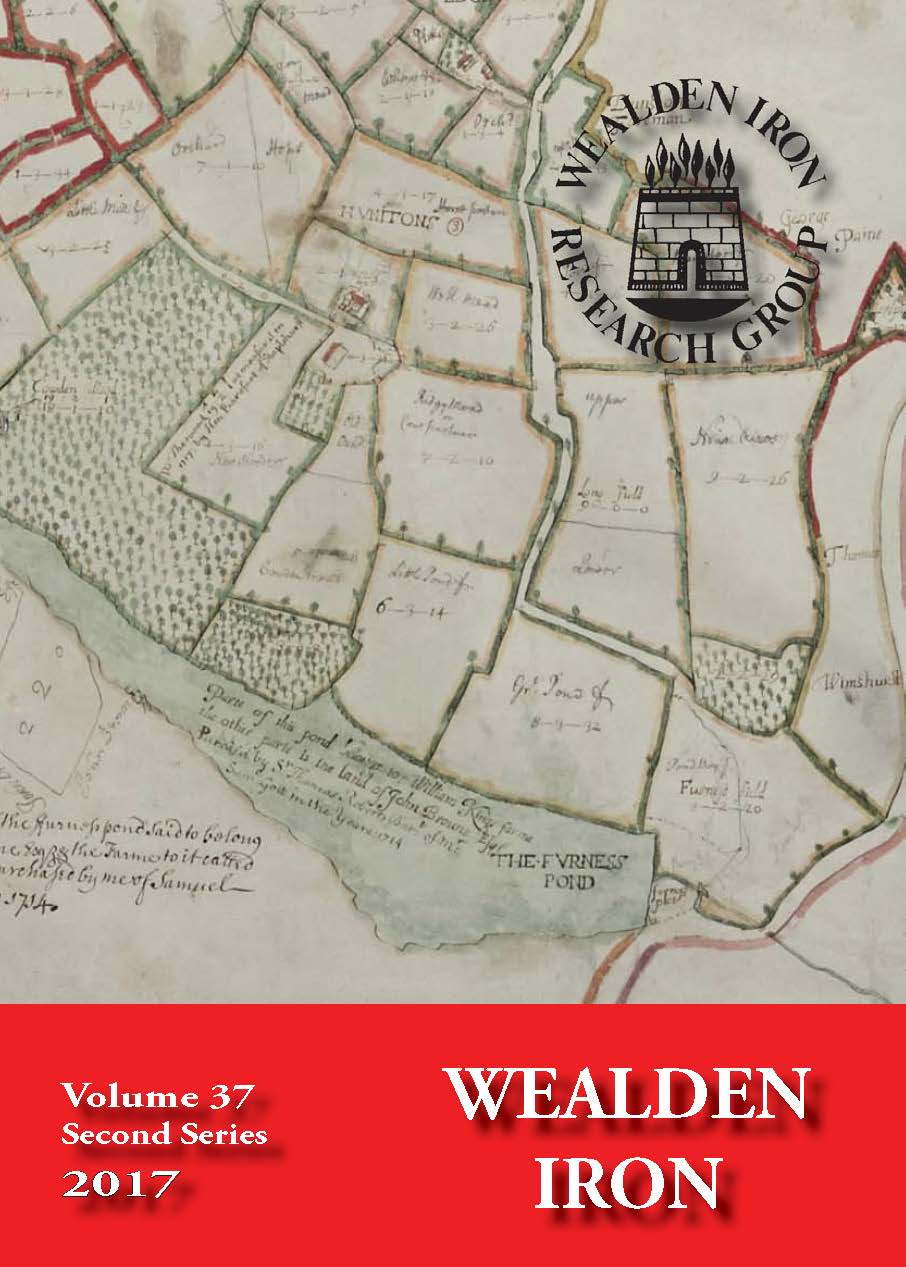 Mine Pits in Brede
Wealden siderite: determining activation energy and smelting time
The introduction of a blast of air into early furnaces
Exploring bloomery smelting dynamics and iron formation
'The location of Mayfield finery forge': a critique and an alternative view
New finds at Horsmonden Furnace
The St Leonard's Forest ironworks: two previously unrecorded leases
Index to Wealden Iron, 2nd series, 37 (2017)
Wealden Iron, 2nd series, 38 (2018) pdf download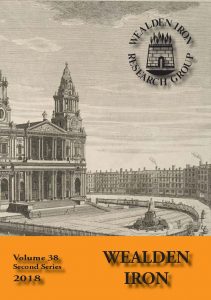 David Wyatt Crossley
Field Notes:
– A bloomery site in Mountfield, East Sussex
– Bloomery smelting slag in High Street, Crawley, West Sussex
– Probable iron ore extraction in Sedlescombe, East Sussex
Iron-working gods and the Wealden iron industry
The Old Sow Track: The journey of the iron from Panningridge Furnace to Robertsbridge Forge in Tudor times
St Paul's Cathedral railings
Index to Wealden Iron, 2nd series, 38 (2018)
Wealden Iron, 2nd series, 39 (2019) pdf download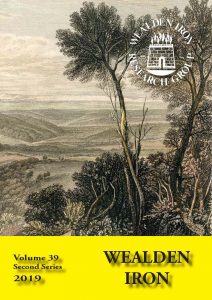 Henry Forester Cleere
Field Notes:
– A bloomery site in Capel, Kent
– Further evidence of Romano-British occupation and iron working in North Chailey
– Bloomeries in Newick Wood, Heathfield, East Sussex
Excavation of a probable ironworking site in Busbridge, Surrey, by the late George Inwood
Chiddingstone Furnace and Forge
A duplicate iron graveslab
A projected lease of Ashburnham Furnace
Ashburnham Furnace: the final blow
Corrigenda
Index to Wealden Iron, 2nd series, 39 (2019)
Wealden Iron, 2nd series, 40 (2020) pdf download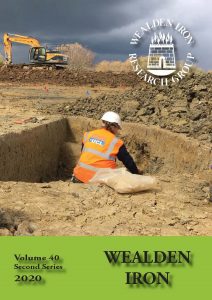 Field Notes:
– A bloomery in Udimore, East Sussex
– A bloomery in Brede, East Sussex
A Middle Iron Age bloomery at Haywards Heath, West Sussex
Excavations at Huggett's Farm, Buxted, East Sussex 1978-90
For 'Darfold' read Pashley
Examination of ore samples from Horam mine pits, East Sussex
Etchingham Forge: a note on its water supply
Index to Wealden Iron, 2nd series, 40 (2020)
Wealden Iron, 2nd series, 41 (2021) pdf download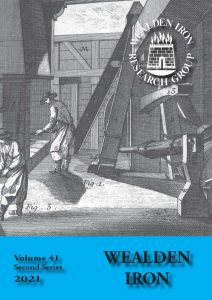 Field Notes:
– A bloomery in Bexhill, East Sussex
– Possible Saxon iron slag in Crawley, West Sussex
A Middle Iron Age bloomery and other features at Heartenoak Road, Hawkhurst, Kent
A Romano-British ironworking site at Thorp's Wood, Sedlescombe, East Sussex
Purchases of Sussex iron for Rievaulx Forge, Yorkshire
Index to Wealden Iron, 2nd series, 41 (2021)
Wealden Iron, 2nd series, 42 (2022) pdf download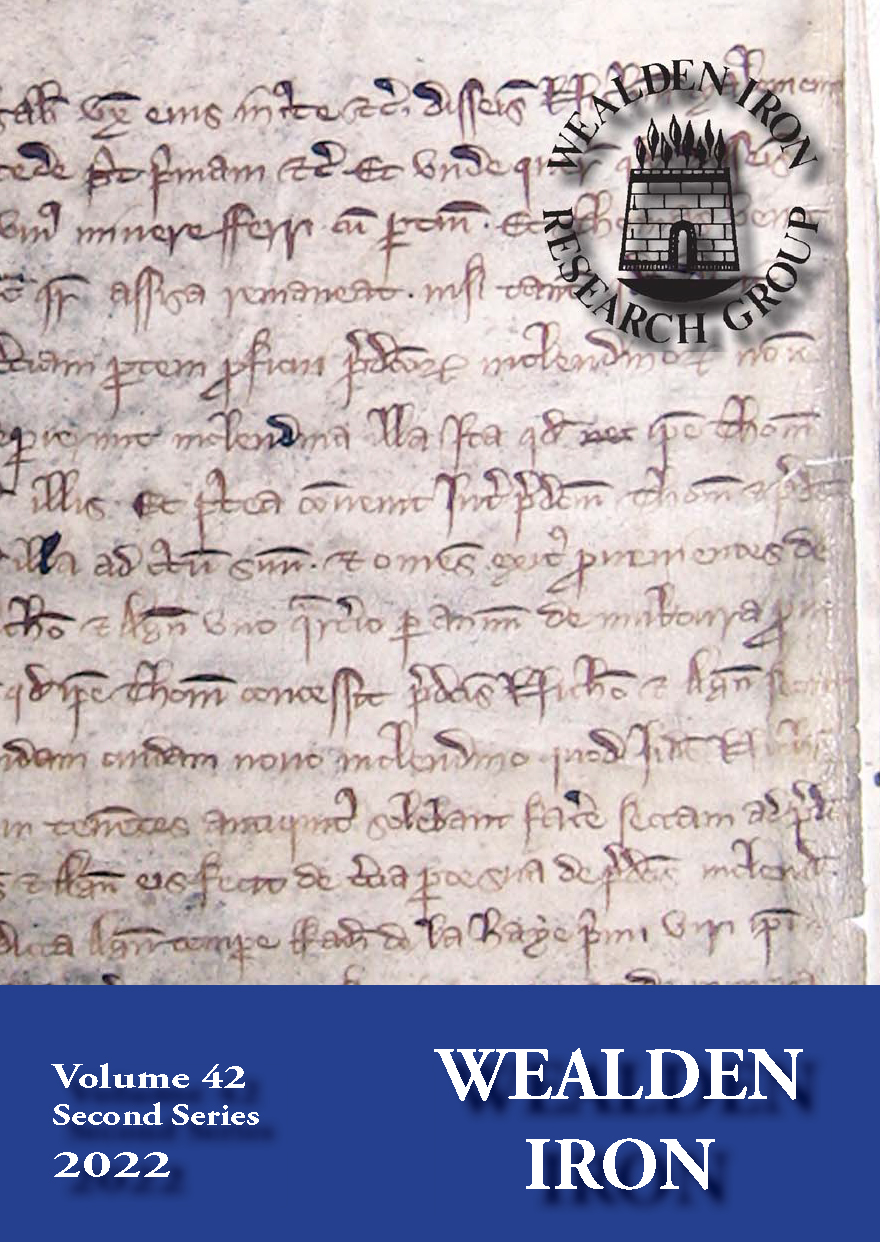 Field Note:
– Petley Wood, Battle, East Sussex
Medieval iron at Lavertye, Forest Row, East Sussex
Abraham Willard
Ordnance production at Imbhams Furnace: separating fact from fiction
Evidence of 'Throwing in the Clayes': backfilled minepits at Horam, East Sussex
Index to Wealden Iron, 2nd series, 42 (2022)
Wealden Iron, 2nd series, 43 (2023)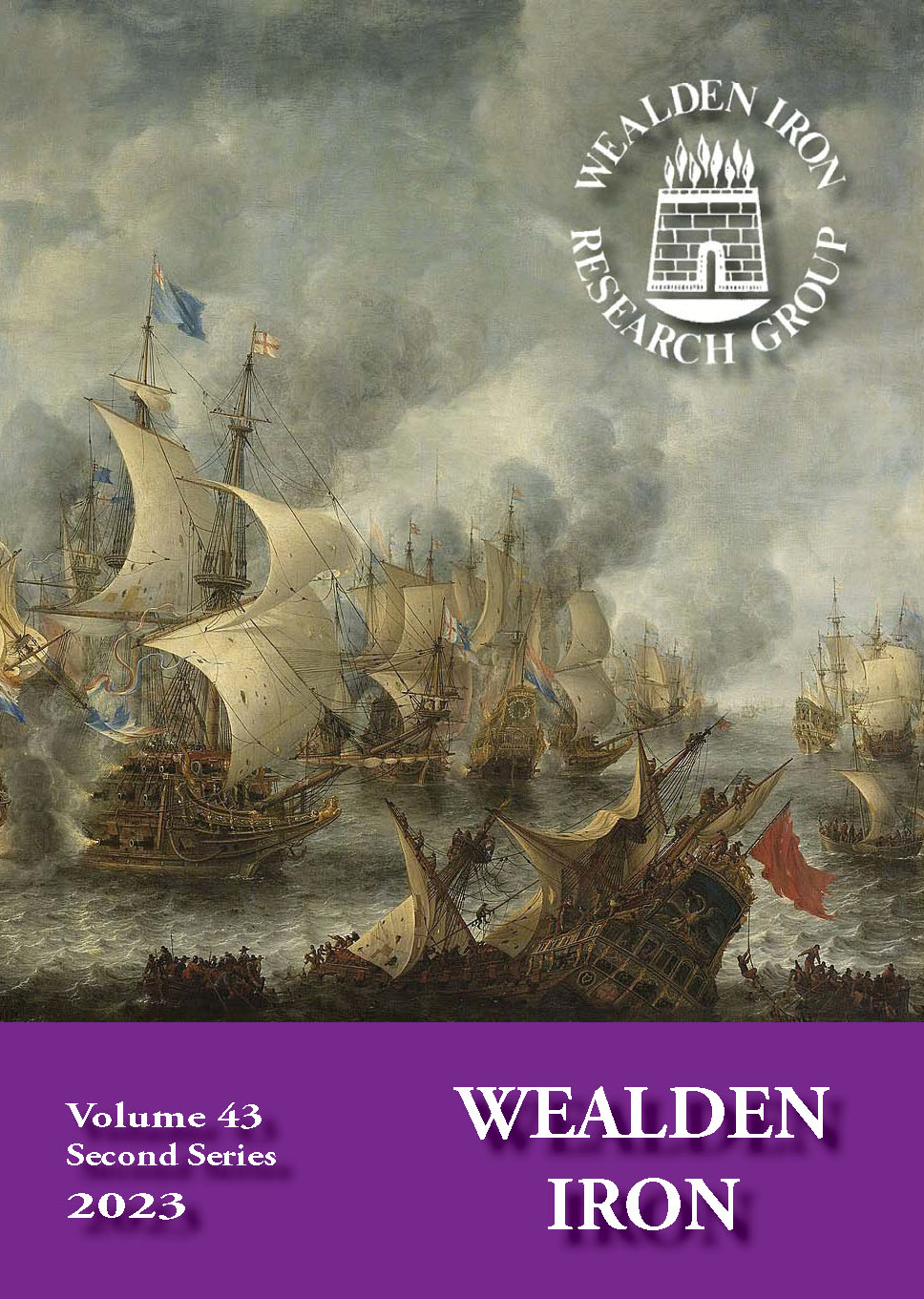 Field Notes:
– Bardown Romano-British ironworking site, Ticehurst, East Sussex
– Bloomery slag in Tunbridge Wells, Kent
– A bloomery furnace in Framfield, East Sussex
– Two bloomery slag scatters in Wadhurst, East Sussex
Steel blooms from Brokes Wood Middle Iron Age bloomery, Southborough, Kent
John Colepeper de Lynleghe and medieval iron in Withyham, East Sussex
George Browne: Part I – Gunfounder to the Commonwealth
Some probate inventories mentioning ironworks
Index to Wealden Iron, 2nd series, 43 (2023)