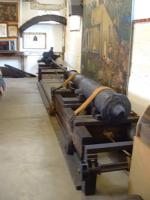 ANNE OF CLEVES HOUSE, Lewes, Sussex
The best museum display devoted to the iron industry in the Weald is in Anne of Cleves House Museum in Lewes, which is run by the Sussex Archaeological Society. This shows you how iron ore, mined locally, was smelted in water-powered blast furnaces to make iron and how cannon were cast. There is also on display a boring bar recovered from a garden at Stream Furnace Mill, Chiddingly.
Visit the museum's website to find out about opening times and admissions.
Firebacks
Firebacks were cast by pouring molten iron into a sand mould. The mould was created by first making a wooden model of the desired design and pressing this into a bed of clay-impregnated sand, although very early examples had small objects pressed into the sand, even pieces of rope to make a date or initials. Anne of Cleves House, Lewes has a substantial collection of firebacks and two rare, original wooden fireback patterns.
See more about this fireback. Discover more about iron firebacks.
HASTINGS MUSEUM also has an extensive collection of firebacks but these are not on display at present.
There are also some fine examples of firebacks made in the Weald on display in the VICTORIA & ALBERT MUSEUM, London. You can search for images of them HERE.
And at PETWORTH HOUSE (National Trust) a collection of firebacks, mostly continental designs but a few from the Weald, can be seen displayed along the Servants' Corridor. A descriptive catalogue of them is available. Other Wealden firebacks can be seen in fireplaces in the house. In an inventory of the contents of the old Petworth House in 1632, 21 firebacks were recorded.
RURAL LIFE CENTRE, Reeds Road, Tilford, Farnham, Surrey, GU10 2DL.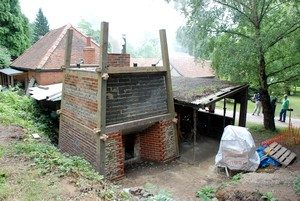 A half-scale reconstruction of a Wealden blast furnace and forge hammer has been built at the Centre and is open to visitors. Although it does not make iron, a waterwheel operates the furnace bellows and the hammer and gives visitors a good idea of the appearance of these mechanisms at work. A short video sequence filmed during the Wealden Iron Research Group's AGM at Tilford in 2011 can be viewed. Also on display is an original section of the railings from St Paul's Cathedral in London, which were cast in the Weald in the early-18th century. Further information about the Centre
Ordnance and Cannon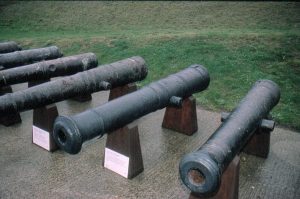 FORT NELSON was built to protect Portsmouth harbour against the threat of invasion, but is now a Royal Armouries Museum. It has an impressive collection of weaponry through the centuries, including cannon made at furnaces in the Weald.
Visit the museum's website to find out opening times and admissions.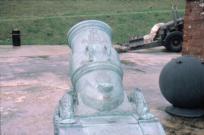 Iron Graveslabs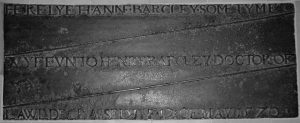 These were not an important commercial product of the Wealden furnaces, but from the 16th century over 100 people directly or indirectly associated with the iron industry were laid to rest beneath iron plates instead of beneath the more familiar, engraved ledger stones. There are iron graveslabs in several churches in south-east England but the largest number surviving – 33 – are at the church of St Peter & St Paul, Wadhurst in East Sussex. The picture shows the earliest dated iron graveslab, made for the wife of the local Member of Parliament, which is in St Swithun's church in East Grinstead.
A smaller number of iron graveslabs are also to be found in churches in the west Midlands and Yorkshire.
A Catalogue of Pre-Industrial Revolution Iron Graveslabs in England was compiled by Rosalind Willatts and first published on microfiche in Sussex Archaeological Collections, 125 (1987). It was subsequently printed in Wealden Iron, 2nd series, 8 (1988), 12-47.
This catalogue, with later additions, corrections and amendments can be downloaded (pdf)
© Wealden Iron Research Group 2000-21.