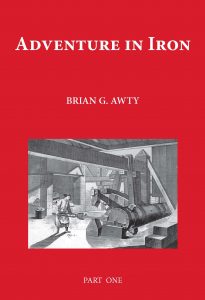 ADVENTURE IN IRON: The blast furnace and its spread from Namur to northern France, England and North America, 1450-1650; a technological, political and genealogical investigation
by Brian G. Awty
Published 2019 by the Wealden Iron Research Group in a limited edition of 350 copies.
Making extensive use of British and continental archival and published sources, many previously unexplored in this context, Adventure in Iron describes the way in which the early history of the indirect ironmaking process in England is integrated into the parallel story on the Continent, and provides a detailed biographical approach to the migration of ironmasters and workers from the Continent to South East England in this period.
'The most important book on the early modern European iron industry to appear for many years'. Philip Riden, Antiquaries Journal
'Without question this is an extremely important work, tracing the spread of new ironmaking technology in the late medieval and early modern period'. Peter King, Historical Metallurgy
'A tour de force'. Elizabeth Edwards, Archaeologia Cantiana
'[Awty's] detailed research gives us the family names of many of the ironworkers who came to Britain. For a family historian, this is wonderful'. Sherryl Abrahart, Genealogists' Magazine
ISBN 978-1-9160423-0-8; case bound in a two-volume set; 997pp; 302mm x 219mm 14 black and white illustrations; 21 maps of sites; two appendices; detailed contents pages, footnotes and bibliography; general and names indexes £45.00 + postage & packing.
BUY NOW


IMPORTANT – PLEASE INCLUDE YOUR LOCAL PHONE OR MOBILE/CELLPHONE NUMBER WHEN PLACING YOUR ORDER


IT IS A REQUIREMENT OF ALL PARCEL DELIVERY SERVICES

IMPORTANT – PLEASE INCLUDE YOUR LOCAL PHONE OR MOBILE/CELLPHONE NUMBER WHEN PLACING YOUR ORDER
The publisher regrets that it can offer no discount to the book trade. Institutional or private purchasers unable to order using credit or debit cards should Contact the Editor.
For more information about Adventure in Iron go to Contents pages (pdf) and Families of ironworkers described in the book (pdf)