Over an extended weekend of March 28-30th, 2015, WIRG members visited the Forest of Dean ironworking sites, being accommodated at the Dean Field Studies Centre, Parkend, Lydney, Gloucestershire. The weekend included visits to Noxon Park mines (Saturday), Whitecliff blast furnace and Tintern blast furnace (Sunday), and Lambsquay Wood and Blaenavon Ironworks World Heritage Site (Monday).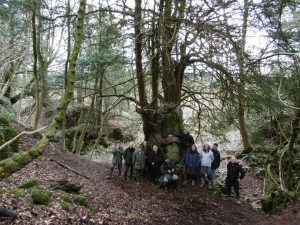 WIRG members in Lambsquay Wood next to an old yew tree growing round an upstanding pillar of limestone. The pillars were left in place from iron ore mining in the medieval period (or earlier). Huge bodies of a very pure haematite ore were removed leaving a bizarre landscape which is said to have influenced both Tolkien and Harry Potter author, J K Rowling. A number of films have been (partly) shot nearby, including a couple of Dr. Who episodes.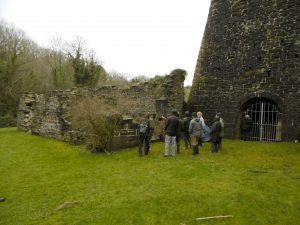 Local expert Ian Standing interprets the Whitecliff blast furnace site for members. This early nineteenth century blast furnace was, for a time, supervised by the renowned metallurgist David Mushet, father of Robert Mushet who successfully improved Bessemer's process later in the century. However, the Whitecliff furnace was never a tremendous success which probably explains why it can still be seen: it' is not hidden by later Victorian improvements.
The remains of the blast furnace in the valley leading down to Tintern Abbey have been known for a long time, but WIRG members were able to look at more recent excavations on the other side of the road. It is plain that the whole valley is deep in slag. Archaeologist Neil Phillips has partially uncovered additional features that remain difficult to interpret. He showed members waste products from the wire mill known to have operated at the site and challenged them to come up with interpretations of the pits and buildings he has found.
Images supplied by WIRG members, Jonathan Prus and Victor Kellett.