Sheffield 'Steel City' visit 7-9 April 2017
This visit explored the iron heritage of South Yorkshire.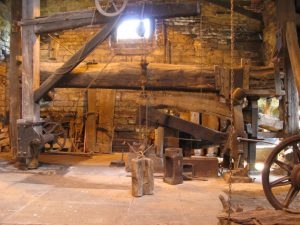 Saturday morning consisted of a guided tour around Wortley Top Forge – an industrial museum set in the oldest surviving water-powered heavy iron forge in the world. Its origins date from 1640 and it was in operation until 1910. It was famous for its wrought iron railway axles and boasts two water powered helve hammers, as well as a bar mill, and a wide selection of engines and tools.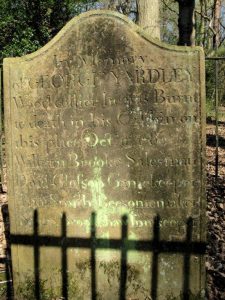 In the afternoon we visited Rockley Furnace, which dates from 1698, and then Ecclesall Wood which was one of many woodlands providing charcoal to Sheffield and contains a monument to George Yardley, a collier who burnt to death in his cabin in 1786. There is also evidence of charcoal platforms for clamps, and pits where 'white' charcoal was made. We concluded with a visit to Shepherds Wheel, a water powered grinding mill for the cutlery trade.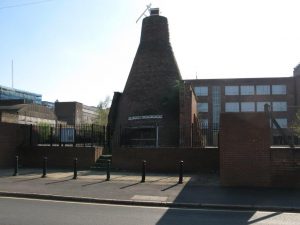 On Sunday we took a walking tour of Sheffield's industrial past including a visit to the only extant cementation furnace – for making steel from wrought iron bar – surviving in this 'City of Steel'. The furnace was in operation until 1951, although by this date it was well and truly an obsolete process.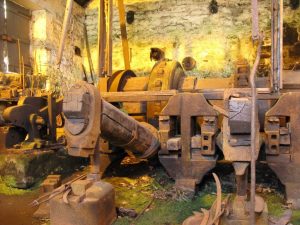 Following the tour around Sheffield's centre we proceed to visit the only remaining crucible furnace at Abbeydale Industrial Hamlet, an 18th century enterprise where the cemented iron was melted in clay pots (crucibles) to produce a uniform steel. It has two water powered trip hammers built in 1785 and grinding wheels where edged tools, such as scythes, made on the premises, were sharpened.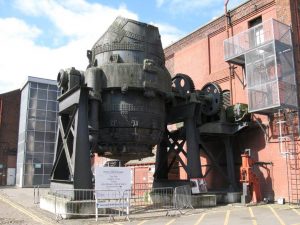 We ended the day at Kelham Island museum which boasts a 25-ton Bessemer converter at its entrance, used for the production of steel until 1974, the 12000HP River Don steam engine which used to drive a rolling mill and is operated twice daily in steam, and the 'Little Mesters' a reproduction of a Sheffield street where tradesmen worked and sold their wares, to mention just a few of the many artefacts in the museum.