EXPERIMENTAL BLOOMERY IRONMAKING
in the Weald of Southern England
in the 21st Century
NEXT SMELT
If you would like to see what goes on and/or join the team, please email: .
The pictures below were taken at our smelt in October 2012.
There have been further smelts during 2013-5, at the Pippingford site, experimenting with different sizes of tuyeres and blowing rates. We have been operating with 2 tuyeres, opposite each other, with a total blowing rate of about 15L/sec, using an electric blower. This blowing rate would be quite hard work using our two hand bellows.
---
PICTURE GALLERY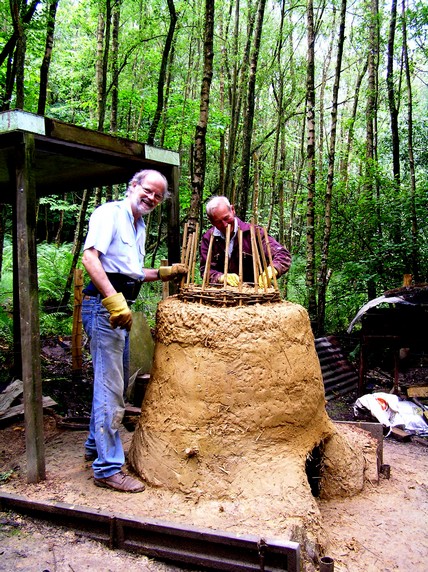 Structure of the furnace being built showing vertical canes with interwoven twigs.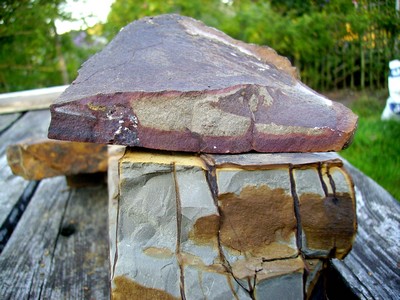 Scale … ore pieces about 350mm across. These pieces of as-found siderite iron ore [iron carbonate, FeCO3] come from the Benenden area of Kent. It has a high specific gravity of 3.9 when pure but is about 3.0 in practice. Any excessive sandy impurities [quartz, SiO2] or fossil shells [calcium carbonate, CaCO3] will cause the tap slag to become viscous and is liable to clog the bloomery furnace and stop the bloom forming correctly.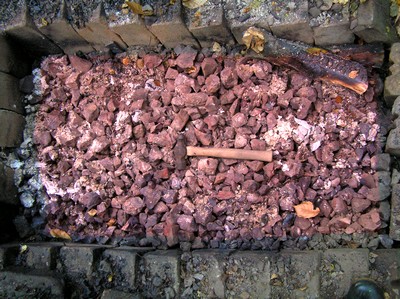 The ore being roasted in a wood-fuelled hearth to convert to the oxide [maghemite, Fe2O3], a magnetic form that is attracted to a magnet; a useful characteristic for checking that pieces are really iron ore. When roasted, the ore changes colour from grey to reddish-purple.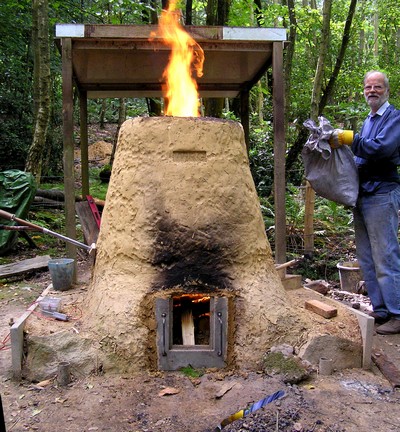 Preheating the furnace to 800°C, with charcoal.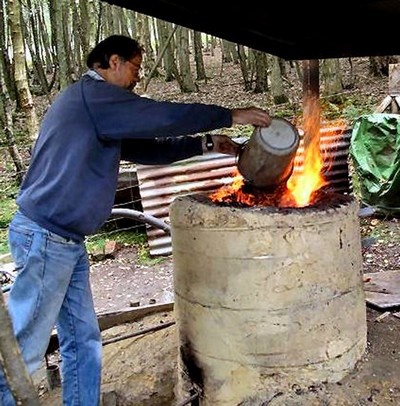 A charge of ore + charcoal is added to the (earlier) furnace; between 15 and 25 charges may be added for one smelt lasting a day. The roasted ore has been broken to roughly 10mm, by gently hammering to limit the dust produced (the dust may not add to the iron produced). Because as-bought charcoal is normally too large a heavy roller is arranged to roll along two rails about 20mm thick, this produces <25mm pieces; unfortunately, a certain amount of dust is also produced. A typical charcoal : ore ratio of 1:1 is used although 1:0.5 and 1:2 have been tried.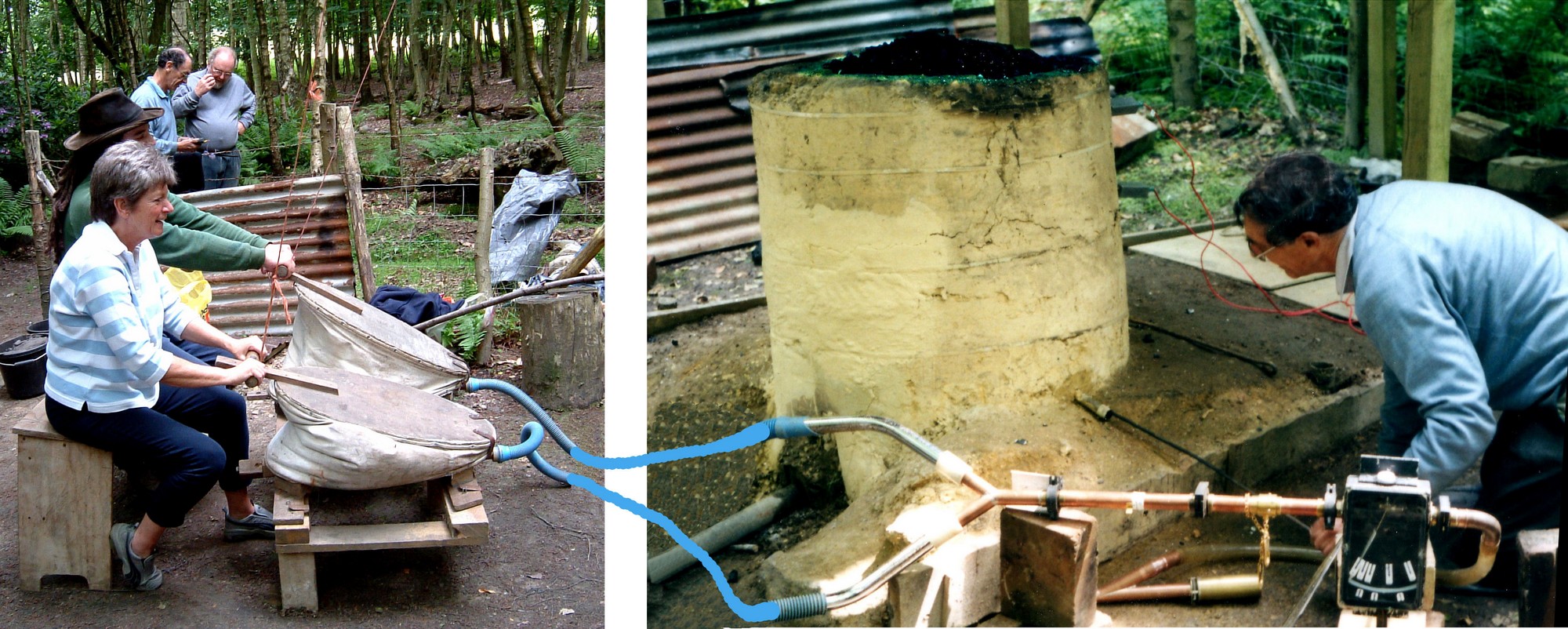 Hand-powered bellows with an earlier furnace and flow meter
Click on image for a larger view.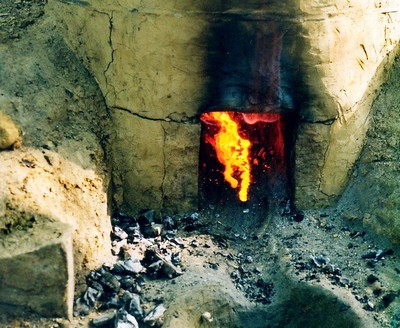 Molten slag [fayalite, 2FeO.SiO4 or Fe2SiO6] is tapped from the bottom of the furnace, thus making room for a larger bloom to form. Note, the apparent waste of Fe (iron) is a necessary evil that reduces the free-flowing temperature of the slag and effectively flushes out the sand [quartz] and other impurities.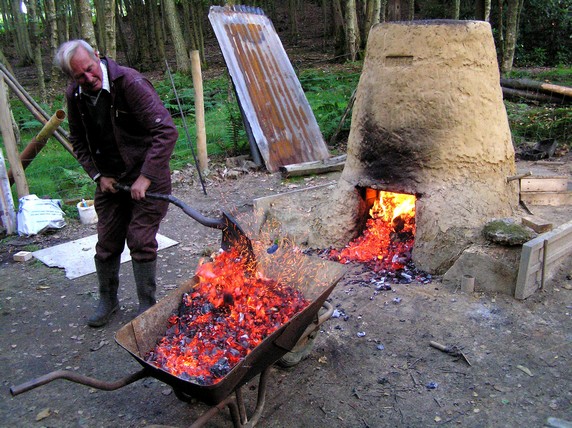 Removing hot charcoal from the bottom of the furnace.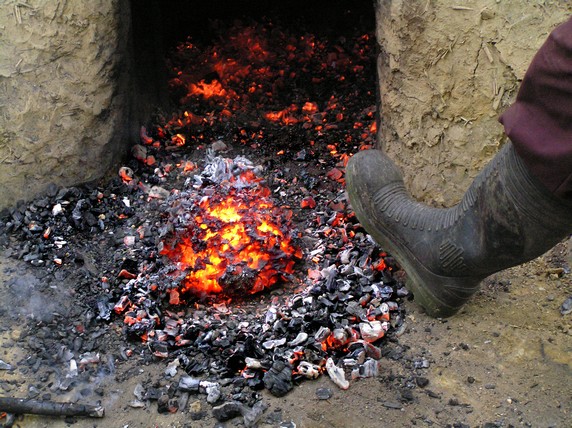 Removal of a bloom - scale: one foot.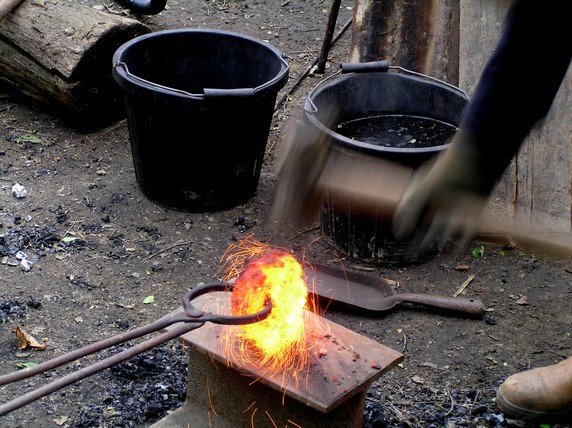 Hammering to consolidate a 2.25kg bloom.

---
CONSOLIDATING A WROUGHT IRON BLOOM SMELTED IN A BLOOMERY FURNACE