Can you identify this?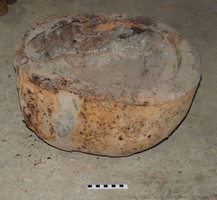 Hadlow mystery object
It is made of cast iron and weighs about 100kg.
It is 48cm long by 26.5cm high. Its width ranges between 42cm and 33cm.
The metal is 5.5cm - 6cm thick.
Close examination has not been possible so far, so examination of any surviving residues has not been undertaken.
It was found by the edge of a field at Hadlow in Kent - not a known industrial site.
Its size, shape and material suggest that it might have been used as a vessel for holding hot metal.
Please communicate any informed suggestions as to its purpose to Jeremy Hodgkinson.
Close this window to return to WIRG's main pages
Click on an image for a larger view.